Personality: Linda S. Jordan
Spotlight on founder of Coalition Against Violence
12/2/2016, 7:28 a.m.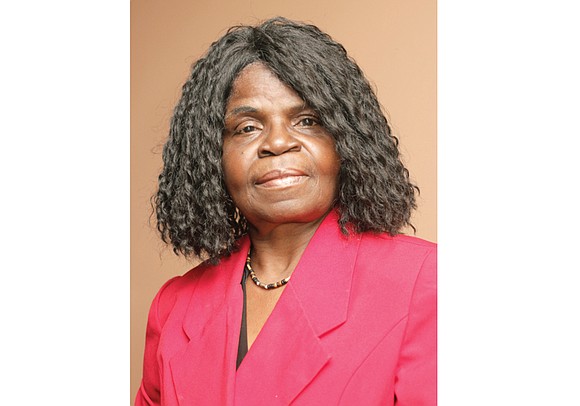 Meet this week's compassionate Personality, Linda S. Jordan:
Date and place of birth: May 8, in Faison, N.C.
Current residence: Richmond's South Side.
Education: Associate degree in community social services from J. Sargeant Reynolds Community College; studied criminal justice at Virginia Commonwealth University.
Family: Sons, William Jordan III (deceased), Jamar, 41, and Michael, 52; daughter, Lisa, 50; four grandchildren and one great-grandchild.
Reason I founded Coalition Against Violence: The Coalition Against Violence started in 1994, several years after I began the vigils. We support the Richmond Victim-Witness Services program in the Commonwealth's Attorney's Office and want to support our community. Although we do the holiday memorial, we also do small events to support families of victims all year long. I'm hoping to join the coalition with other organizations so we can be out in the community more and we can share all of our knowledge to try and make a difference and hopefully to decrease the crime.
Reason for candlelight vigil: My son, William, was murdered in April 1990, and around December of the same year, just before Christmas, I got the vision from God to do the memorial. It was a vision for myself and other survivors to be a part of a Christmas celebration. Every year, I just wanted to get through Christmas. Every day there is pain, but Christmas is especially painful.
Why are some communities disproportionately impacted by crime/violence: That's a tough question because crime and homicide aren't isolated. There was a time when I got started where we would call it purely a city issue. But crime is not just in Richmond because we have people who come from all over who mourn.
The bottom line is that there is a breakdown in communication and there is a lot of division and separation. There has been a lot of stigma for years around black-on-black crime or crime among young people. But when you look at the numbers violent crime affects and impacts everyone.
What young people need most: Love. Without love, all the mentorship in the world will not mean anything. Love has to be ongoing. Love conquers all. You can have anything in the world, but, without love, you have nothing. And once a person knows he/she is loved, they are going to think twice about doing something negative. But if you don't love yourself and nobody else loves you, you don't think about such things. I think children also need good mentors. I think what would help are more after-school programs and more educational programs that can prepare young people for the workforce.
How violence impacts society: If you look at statistics today, and you look at people who are being murdered, you are losing valuable people in society. People who could make a difference are being cut down in the prime of their lives. And when you kill a person, you are taking a mother or father who was contributing to a home. That impacts taxpayers because we each have to step up and support children whose parents have been cut down.