Attorney general: Hate crimes tear at the fabric of our communities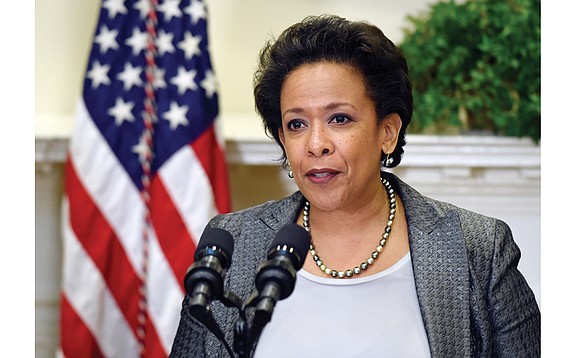 STERLING
Hate crimes tear at the fabric of American communities and represent a stain on the country's soul, U.S. Attorney General Loretta Lynch said at a mosque and Muslim community center on Monday.
The nation's top law enforcement officer spoke at the All Dulles Area Muslim Society Center as law enforcement across the country confronts a spike in hate crimes targeting Muslims.
Her speech at an interfaith gathering in the waning weeks of the Obama administration was intended to reaffirm the U.S. Justice Department's commitment to safeguarding civil rights and protecting racial and religious minorities.
But she also acknowledged concerns from minorities that divisive rhetoric and a new administration could lead to an erosion of some of the progress she said had been made in the last eight years.
Recently released FBI statistics show that the number of hate crimes targeting Muslims that were reported to law enforcement rose by 67 percent in 2015. That's the largest number since the year of the Sept. 11, 2001, terror attacks.
Overall, hate crimes rose by 6 percent last year.
Many hate crimes go unreported.
"Behind every number is a person," Ms. Lynch said. "Behind every statistic is someone whose rights have been violated. Behind the pages of the reports lie communities who are now more afraid than before and more afraid than any American should ever feel."
Hate crimes, she said, should be of concern to every American.
They tear at the "fabric of our communities. They also stain our dearest ideals; they stain our nation's very soul."
The FBI and Justice Department are responsible for investigating and prosecuting hate crimes under federal law. A Connecticut man who fired a rifle at a mosque and a North Carolina man who ripped off a woman's hijab on an airplane are among those convicted of hate crimes in recent months.
Ms. Lynch traveled Tuesday to New York City for a discussion with lesbian, gay and transgender youths at Harvey Milk High School. She also visited the Stonewall Inn and the new Stonewall National Monument, the site of a 1969 clash that sparked the gay rights movement.
Ms. Lynch, who this year sued the state of North Carolina over a bathroom bill the administration said discriminated against transgender individuals, said a "pernicious thread" connects hate crimes, regardless of the target.
She linked an assault on a transgender man to violence against a woman wearing a hijab and to the June 2015 slaying of nine African-American men and women at a church bible study in Charleston, S.C.
In an apparent reference to the incoming administration of President-elect Donald Trump, Ms. Lynch said she was aware of the anxiety that the Justice Department's civil rights work might slide backward.
She acknowledged a trend of divisive rhetoric has made people concerned they could be in danger based on where they pray or what they look like.
But she said the work would continue.
"Is it going to be hard?" she asked. "Yes, it's always been hard."