Gift of the heart
Earl Fleming, a Richmond makeup artist, entertainer and advocate who has given so much to others, receives gift of life from stranger
12/23/2016, 5:08 p.m.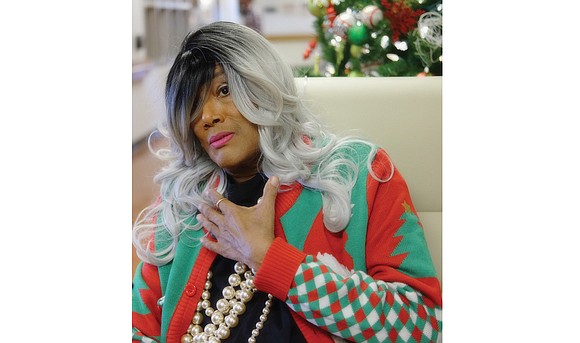 By Lauren Northington
This Christmas, one of Richmond's living legends, who has spent his life giving to others, received the most beautiful gift of all: The gift of life.
Earl Fleming, a celebrated makeup artist, drag performer, singer and Richmond LGBTQ community icon, underwent a long-awaited heart transplant on Thursday, Dec. 1.
Along with a new heart, the 63-year-old founder of the oldest existing African-American drag house in Virginia, House of Snow, received a new kidney to improve his chances for a full recovery and a second chance at life.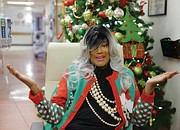 "Right at this moment that I'm talking to you," Earl said just hours after a cardiac catheterization last week that left his voice raspy, "I'm the happiest person I can be. I really am. I feel that I am a miracle."

After a decades-long battle with gout and chronic kidney problems, Earl was diagnosed with acute heart failure in 2008.
Even after his diagnosis, Earl maintained his unique role as cultural icon in Richmond, serving as emcee during the "Church Crown" fashion show at the Richmond Folk Festival and a judge for Glam Gurls modeling competitions while still doing makeup professionally.
Seemingly after every major setback for Earl, there is an even greater comeback.
"It's amazing," he said in a hospital interview Tuesday, referring to his transplant recovery time, as his nurse, Kate, nods her head fervently in agreement. "And I've been dead three or four times."
Each time, he said, God has given him another reason to live.
"When I was younger, a guy stabbed me at my house. I was later in a devastating car accident that severely damaged my sciatic nerve. And when I was getting this heart," he said, patting his chest under a hospital gown, "I flatlined several times."
Even before an organ donor had been secured, Earl had momentarily given up hope.
He was placed on the donor list in the spring of 2016 and was at VCU Medical Center awaiting a donor for 171 days. As the year progressed, Earl said he was becoming increasingly weary.
And then, on Oct. 3, Earl was dealt a devastating blow when his closest friend, Dianna Lofton, lost her battle with cancer.
"We talked every day, and they came in one day and told me she had lost her life. I was devastated."
But in true form, when Earl thought all was lost, hope prevailed.
The day after Ms. Lofton passed away, Earl received notice from his cardiologists at VCU that he had a donor.

While he does not know who his donor was, he is hopeful that he can one day meet and thank his donor's family for the ultimate gift.
It is this enigmatic narrative that allows Earl to continue to find beauty in each moment — and to create beauty for others.
The Armstrong High School Class of 1972 graduate has worked for more than 40 years as a makeup artist, first at Thalhimers and Miller & Rhoades department stores in Downtown during the 1980s and 1990s, then at the MAC counter at Hecht's and Macy's at Regency Square Mall well into the new millennium.