First Lady Michelle Obama had 8-year impact on fashion
12/30/2016, 12:30 p.m.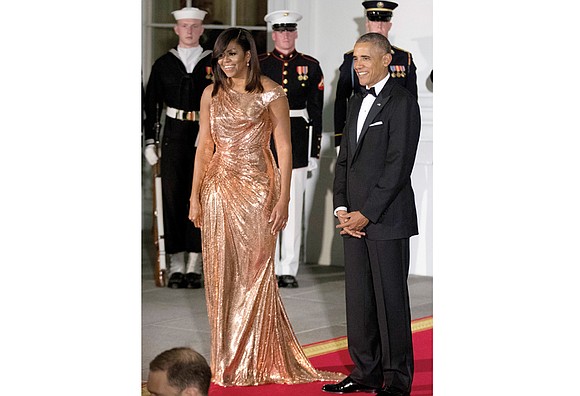 By Jocelyn Noveck
AP National Writer
NEW YORK
The morning after First Lady Michelle Obama's big speech at the Democratic National Convention in 2012, in which she argued passionately for a second term for her husband, designer Tracy Reese's phone was ringing. And ringing.
Mrs. Obama's powerfully delivered speech had attracted much attention — but these phone calls were about her dress. A shimmering sleeveless sheath in rose and silvery gray, it was pretty universally considered a fashion slam dunk. And customers wanted it.
There was only one problem, Ms. Reese recalls: "We didn't have inventory. We had made that dress custom."
And so the label went into production. "And people waited," Ms. Reese says. "You know, so many people admire Mrs. Obama and they want to dress like her. We sold quite a few of those dresses." She estimates the number at more than 2,000.
Ms. Reese, who hails from Detroit, is one of the first lady's favored designers. Mrs. Obama has been photographed in Ms. Reese's designs some 20 to 30 times. But unlike some past first ladies who favored one or two big-name designers, Mrs. Obama has spread her fashion choices among a huge stable of them, often promoting lesser-known names, and taking care to promote American designers at such high-profile events as inaugurations, conventions and state dinners.
Which is why so many designers and industry watchers will miss her when she steps away from her post after eight fashion-conscious years. They consider her one of the most influential first ladies in fashion, perhaps even more so than Jacqueline Kennedy, because of her broad appeal.
"Michelle Obama embraced everyone," says Andre Leon Talley, a fashion editor at Vogue magazine. "She embraced black designers, Asian designers, European designers. ... She was very democratic in her choice of clothes."
And that includes wearing fashion that ordinary women could potentially afford, such as cardigans from the retailer J. Crew.
"She's made an effort to wear accessible fashion," Ms. Reese says. "I think Jackie (Kennedy) was a great role model, but she wore a lot of couture and things that most Americans could not afford." Mrs. Obama, she said, has worn both high-end and moderately priced fashion.
Ms. Reese, who is African-American, is particularly proud that one of her designs — a black dress printed with bright red flowers — is on display at the National Museum of African American History & Culture. The first lady wore it to commemorate the 50th anniversary of the March on Washington.
Mrs. Obama set the stage for her broad-based fashion choices with her first inauguration. Previous first ladies had often gone with established luxury designers like Oscar de la Renta. Mrs. Obama wore a two-piece, lemongrass-hued ensemble by Cuban-American designer Isabel Toledo for day, and a one-shouldered white gown by New York-based, Taiwanese-Canadian designer Jason Wu at night.
For her husband's second inauguration, she wore a sleek coat and dress by American designer Thom Browne, known for his eclectic talents, and in the evening, Jason Wu again.