Symbolism fills official portraits of Obamas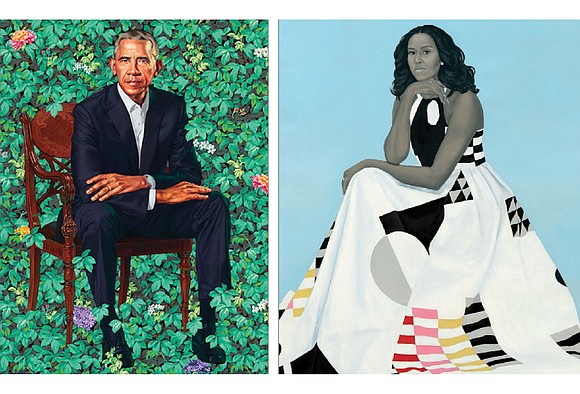 They have been called "stunning," "compelling," "powerful" and "unexpected."
And now, the official portraits of former President Obama and his wife, former First Lady Michelle Obama, will be on view at the National Portrait Gallery in Washington.
The paintings were unveiled Monday during a crowded, upbeat ceremony at the Smithsonian's portrait gallery, where the Obamas were joined by artists Kenhinde Wiley and Amy Sherald who they personally selected to complete the works.
Mr. Wiley and Ms. Sherald are the first African-American artists ever commissioned to paint a presidential portrait or that of a first lady for the Smithsonian.
For President Obama's portrait by the Los Angeles born, New York-based 40-year-old Mr. Wiley, the former president is depicted sitting in a brown chair with a backdrop of bright green leaves and colorful flowers.
The painting of Mrs. Obama by the Columbus, Ga., native, Baltimore-based Ms. Sherald, 44, shows the former first lady sitting with one hand under her chin and the other draped across her lap, while wearing a long flowing dress decorated with geometric shapes.
The former president drew multiple laughs from the audience for his remarks, starting out by praising Ms. Sherald for "spectacularly capturing the grace and beauty and intelligence and charm and hotness of the woman that I love."
He quipped that Mr. Wiley was at a disadvantage because his subject was "less becoming."
"I tried to negotiate less gray hair and Kehinde's artistic integrity would not allow him to do what I asked," President Obama said in tongue-in-cheek fashion. "I tried to negotiate smaller ears. Struck out on that as well."
The National Portrait Gallery has a complete collection of presidential portraits. A different set of portraits of the former first couple will eventually hang in the White House.
"I am humbled, I am honored, I am proud," Mrs. Obama said. "Young people, particularly girls and girls of color, in future years they will come to this place and see someone who looks like them hanging on the walls of this incredible institution."
President Obama spoke of his choice of Mr. Wiley, saying the two men shared multiple parallels in their upbringing; both had African fathers who were largely absent from their lives and American mothers who raised them.
He said he found the process of sitting for the portrait to be a frustrating experience.
"I don't like posing. I get impatient and start looking at my watch," he said, "but working with Kehinde was a great joy."
Mr. Wiley said the depiction of President Obama surrounded by greenery and flowers was meant to "chart his path on earth" through the choice of flowers. The painting includes chrysanthemums, which are the official flower of Chicago; jasmine to evoke Hawaii, where President Obama largely grew up; and African blue lilies to honor President Obama's Kenyan father.
"Being the first African-American painter to paint the first African-American president, it doesn't get any better than that," Mr. Wiley said.
Mrs. Obama, whose wardrobe as first lady was lauded for its fresh and distinctly contemporary style, is showing bare arms in the portrait as she wears a halter dress by American designer Michelle Smith of the label Milly. Her skin is depicted in Ms. Sherald's trademark grayscale, which is reminiscent of the black and white photography that the artist uses for portraiture. The aim, is to "exclude the idea of color as race," Ms. Sherald has said. The patterns in the dress recall the famous quilt designs produced by generations of African-American women in the Alabama hamlet of Gee's Bend, as Ms. Sherald also has said.
While many Twitter posts described the portraits as stunning, a few criticized them as poorly executed. Others talked about missing the Obamas, with the portraits giving them renewed hope.