VMFA acquires Kehinde Wiley sculpture 'Rumors of War'
George Copeland Jr. | 6/28/2019, 6 a.m.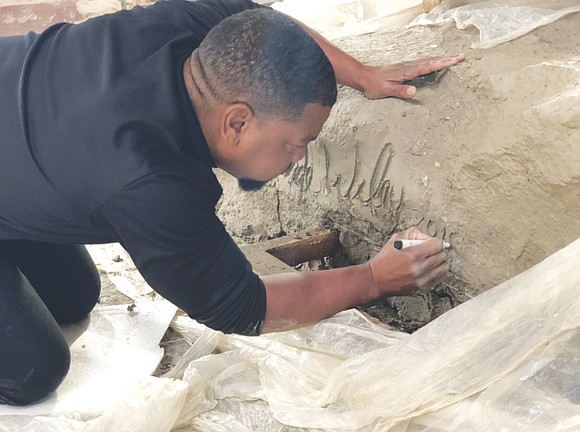 It all started on Monument Avenue.
In 2016, world-renowned artist Kehinde Wiley traveled to Richmond for the premiere of his exhibit, "Kehinde Wiley: A New Republic," at the Virginia Museum of Fine Arts. Making his way to the museum on Arthur Ashe Boulevard, he encountered the statue of Confederate J.E.B. Stuart on horseback at the thoroughfare's intersection with Monument Avenue.
That monument to a defender of slavery would lead Mr. Wiley to reach back, in style and title, to a series of paintings he made in the early 2000s to create a sculpture that, in his own words, would "expose the beautiful and terrible potentiality of art to sculpt the language of domination."
His new work, "Rumors of War," features a young African-American man dressed in urban streetwear sitting astride a massive horse. The sculpture, cast in bronze, is Mr. Wiley's largest three-dimensional work to date and his first public art work.
The VMFA's board of directors, led by Dr. Monroe Harris of Richmond, voted last week to acquire "Rumors of War," that will be installed at the VMFA's entrance on Arthur Ashe Boulevard in December after its initial debut Setp. 27 in busy Times Square in New York City.
"The installation of 'Rumors of War' at the Virginia Museum of Fine Arts later this year will be a historic moment for our museum and for the city of Richmond," VMFA Director Alex Nyerges wrote in a statement announcing the acquisition.
"We hope that the sculpture will encourage public engagement and civic discussion about who is memorialized in our nation and the significance of monuments in the context of American history."
While Richmond has made efforts to counteract the Lost Cause narrative upheld and maintained by the Confederate statues that dot Monument Avenue, the city remains restrained by state laws that prevent their removal without approval by the General Assembly. The solutions so far, notably the placement of a statue of Arthur Ashe on Monument Avenue, have never been as explicitly anti-Confederate as Mr. Wiley's work.
The sculpture deliberately mirrors the triumphant posture of the Stuart statue with a horse-riding black man dressed in street clothes as part of "an engagement with violence" that Mr. Wiley described as the inspiration behind it.
"Art and violence have for an eternity held a strong narrative grip with each other," Mr. Wiley stated in a VMFA news release. "'Rumors of War' attempts to use the language of equestrian portraiture to both embrace and subsume the fetishization of state violence," he wrote.
An award-winning artist, Mr. Wiley has been lauded in the past for his work depicting various African-American figures. Former President Obama chose Mr. Wiley to create the 44th president's official portrait that is on view in the Smithsonian's National Portrait Gallery.