First Lady Michelle Obama had 8-year impact on fashion
12/30/2016, 12:30 p.m.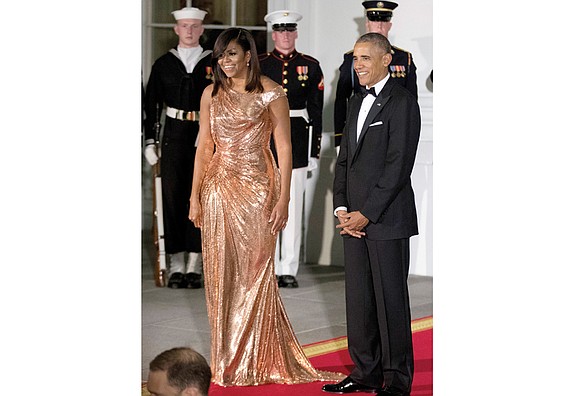 "It was an honor to have the opportunity to dress Mrs. Obama," Mr. Browne said in an email message. "She is such a stylish individual because of her confidence and intelligence."
For Mr. Browne, Ms. Toledo, Ms. Reese and others, it was never clear until the moment Mrs. Obama actually appeared whether she would be wearing their designs.
"We would get calls periodically from her team," Ms. Reese said. "But we never knew exactly what things were for and when she would be wearing them. And I think that that's just necessary, because you don't know when plans will change."
However it unfolded, it certainly could change a designer's career.
"We've been brought to the attention of millions more people than we ever would have reached," Ms. Reese says.
David Yermack, a professor of corporate finance at New York University, studied the financial impact of Mrs. Obama's fashion choices in her first year as first lady. He says he found an immediate spike in stock prices of companies whose apparel she wore. He only examined publicly traded companies.
"There was a very strong and immediate reaction in the stock prices of the design firms and also the retailers," Dr. Yermack says. For major appearances, this could run into the tens of millions of dollars. "That's happened many times with her."
And the public, Dr. Yermack says, remembers what Mrs. Obama wears.
"Do you remember what Pat Nixon or Laura Bush wore? She has the ability to hold the interest of the consumer in a way that almost no one else does. I've looked far and wide — Kate Middleton, Carla Bruni. Nobody begins to approach Mrs. Obama on this."
Dr. Yermack thinks what's different about Mrs. Obama is that first ladies "have traditionally tried to be nondescript in the way they dressed. They didn't want to overshadow their spouses ... or be seen as spending a lot on clothing. But she had no inhibitions in that sense.
"She really had an impact on how professional women dressed, and how you could have fun with fashion, in a way that you couldn't imagine Rosalynn Carter or Barbara Bush ever doing," he says. "It's a very short list of first ladies who are going to leave that kind of legacy."