Cam Newton wins league MVP, but loses Super Bowl
2/12/2016, 6:39 p.m.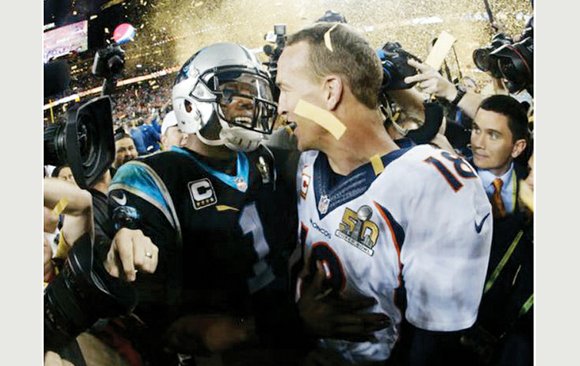 From Super Bowl 50, we learned the "D" in Denver stands for "defense," and Cam Newton remains a work in progress.
In a game sandwiched between endless commercials and a marathon halftime show, the Denver Broncos defeated the upstart Carolina Panthers 24-10.
For leading the Panthers to 17 victories, Newton, the team's gifted and flamboyant quarterback, deserves the league honor of Most Valuable Player, which was announced last Saturday. But it was Denver linebacker Von Miller who earned Super Bowl MVP and man of the moment honors.
Coincidentally, Newton, who came out of Auburn University, was the No. 1 overall draft selection in the 2011 NFL draft. Miller, from Texas A&M University, was the second man picked in the 2011 draft.
The order of their star status flip-flopped during Sunday's game in Santa Clara, Calif., as Newton, under siege in the passing pocket, lost traction and the ball on three pivotal occasions.
Miller, relentless in his pursuit of the man wearing the Panthers' No. 1 jersey, was credited with 2.5 sacks and nearly had several more. Two of Miller's jolting blows caused Newton to fumble, each resulting in Denver touchdowns. "Superman," as Newton is called, was reduced to Clark Kent.
In a Super Bowl match billed as aging, aching veteran quarterback Peyton Manning versus the swashbuckling Newton, it turned out to be more Newton versus the Denver pass rush, with the spirited "Orange Crush Rush" the unanimous winner on all cards.
Newton, never looking comfortable, was sacked seven times during the game and threw an interception. The Hollywood smile he is famous for was reduced to a frown.
The fifth-year pro was 18-for-41 for 265 yards, and ran six times for 45 more yards. But he lost admiration during the game's fourth quarter by declining, inexcusably, to dive into the pile to try and grab his own fumble with four minutes left and the Panthers down 16-10.
Halftime performer Beyonce couldn't have done any less on that particular play. The ball was recovered by Denver's DeMarcus Ware at the Carolina 4-yard line, ending the Panthers' chances for a win.
Newton never enjoyed a "look at me" moment.
After Carolina's sole touchdown, a 1-yard dive by Jonathan Stewart, Newton appeared like he wanted Stewart to hand him the ball so he could show off — even though the Panthers were trailing 10-6 at the time.
Instead, Stewart flipped the ball to the referee, foiling the much-anticipated Newton end zone theatrics.
During the postgame interview, Newton, slouched under a hooded sweatshirt, gave grouchy one- and two-word answers to media questions and abruptly stood up and left before the session ended.
Meanwhile Manning, in the likely final game of a sterling career, orchestrated victory with the least yards ever by a Super Bowl winner — 194 yards. The NFL icon will turn 40 next month and the years of surgeries have not been generous. For his legion of faithful fans, it was painful to watch. Reduced to short, fluttery passes, Manning succeeded only in avoiding disaster.
The future Hall of Famer was serviceably conservative, at best, preferring safety over sorrow.
Brock Osweiler, with a rocket arm, is just 25-years-old and looms as Denver's quarterback of the future. Already he is being called "Brocko the Bronco." He has waited his turn.
Manning is overdue for retirement, although he would not concede that in his postgame interview with CBS sideline reporter Tracy Wolfson.
Instead, the athlete and pitchman said he planned to "drink lots of Budweiser."
With Miller's star shining brightest in the 50th anniversary of football's grandest spectacle, the Broncos taught the world some lessons in stern defense.
Meanwhile, Newton, for all his size, speed and talents, proved he has lessons yet to learn.