Kendrick Lamar wins big at Grammy Awards
2/19/2016, 9:03 p.m.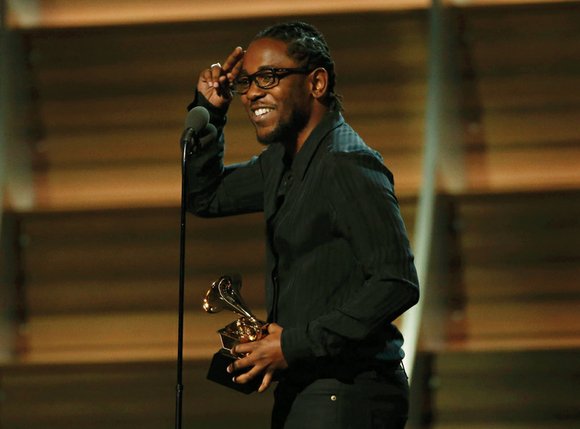 Reuters
LOS ANGELES
Hip-hop ruled the stage Monday night at the Grammy Awards in performances that put racial tension back in the national spotlight and where some of music's biggest stars failed to deliver, or in the case of Rihanna, failed to show up at all.
Rapper Kendrick Lamar went into the awards with 11 nominations and looked to be on course to win album of the year for his critically acclaimed "To Pimp a Butterfly." While he led Grammy winners with five wins, he lost album of the year to country-turned-pop artist Taylor Swift, who won with "1989," the best selling album of 2014.
Mr. Lamar's passionate, politically charged performance of "The Blacker the Berry" and "Alright," featuring chained black men in a prison and African tribal dancers, quickly stole the show.
"I'm African-American, I'm African, I'm black as the moon, heritage of a small village, pardon my residence, came from the bottom of mankind," rapped Mr. Lamar, 28, who hails from Compton, Calif.
His performance ended with a backdrop of a large map of Africa with the name Compton written across it.
Eric Deggans of National Public Radio called it "a performance that woke up a sleepy #Grammys" and entertainment website E! Online tweeted that "Kendrick Lamar just SHUT. IT. DOWN. at the Grammys."
Mr. Lamar wasn't the only rapper making waves.
Broadway's sold-out musical "Hamilton," which mixes rap, jazz, ballads and casts black and Latino actors as the U.S. founding fathers, performed live from New York. The show won the best musical theater album award and its creator, Lin Manuel-Miranda, delivered his acceptance speech in rap.
R&B singer Bruno Mars and producer Mark Ronson won record of the year for their upbeat track, "Uptown Funk!"
Richmond native D'Angelo and his band the Vanguard, won a Grammy for best R&B album for "Black Messiah". D'Angelo and Kendra Foster also won best R&B song for "Really Love."
Lady Gaga brought the audience at the Staples Center to its feet with a psychedelic tribute to David Bowie, who died in January.
Rihanna pulled out at the last minute with bronchitis, disappointing fans watching at home who complained the 2016 Grammys lacked star power.
Beyonce later made the briefest of appearances to present an award at the end of the 3½-hour show, but did not perform.