Personality: Enjoli Moon
Spotlight on founder of Richmond's Afrikana Independent Film Festival
2/19/2016, 8:31 p.m.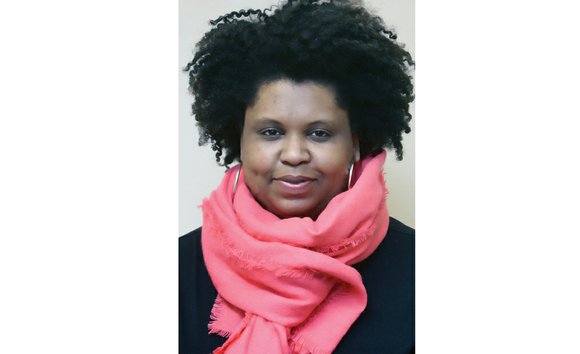 Enjoli Moon first contemplated the idea of starting the Afrikana Independent Film Festival in 2014. "I was planning to attend black film festivals in other areas and began to wonder why Richmond didn't have one," the Richmond native recalls.
From there, she says, "I started playing around with ideas and initially thought of pitching it to an organization or institution. But a friend encouraged me to do it myself, and said they were willing to support the festival as a sponsor." Buoyed by the proposition, Ms. Moon is organizing the first multiday Afrikana Independent Film Festival that tentatively is scheduled for this fall.
She describes the festival as a vehicle to showcase the cinematic works of emerging and established filmmakers throughout the African Diaspora.
"Our platform," she says, "is designed to celebrate the global black culture through the medium of independent film, created by and about black people."
Ms. Moon launched the endeavor by creating the Noir Cinema monthly film series "as a way to introduce Afrikana to the city." It showcases short, independent films on the third Thursday of each month at different Richmond area art galleries.
Ms. Moon says the first Noir Cinema screening was held in Richmond in September 2014 at the Page Bond Gallery in the Fan District, with the filmmaker in attendance.
Next on tap for Noir Cinema is the Richmond premiere of "Black Card" by director Pete Chatom at 7 p.m. Thursday, Feb.18, at Browne Studio, 1100 Hull St. in South Side. The film examines how far the boundaries can be pushed for an African-American couple in a culture requiring an ID card and commitment to the codebook, according to a post on the film's Facebook page.
Then at 7 p.m. Saturday, Feb. 27, Ms. Moon says Afrikana will roll out its new series, "Evening with an Icon," featuring award-winning poet Sonia Sanchez.
Ms. Sanchez, 81, will participate in an audience discussion about her life and work after a screening of the documentary "BaddDDD Sonia Sanchez."
The event, which had been postponed because of inclement weather, will take place at the Grace Street Theatre, 934 W. Grace St.
Ms. Sanchez emerged as a seminal figure in the 1960s Black Arts Movement, raising her voice in the name of black culture, civil rights, women's liberation and peace as a poet, teacher, activist and early champion of the spoken word.
"We will also host our next 'Movies & Mimosas' on Sunday, April 3, with our community partner, Feast RVA," Ms. Moon said. More information on the film group and its events is available at www.afrikanafilmfestival.org.
This week's Personality, Enjoli Moon, is a film visionary:
Occupation: Marketing and branding associate. 
Date and place of birth: Nov. 23 in Richmond.
Alma mater: Majored in sociology at Virginia Commonwealth University.
Family: Son, Jonah.
The Afrikana Film festival is unique because: We work to present stories that authentically reflect the full spectrum of black culture. We highlight the beauty and uniqueness of Richmond through hosting events at different arts and culture venues throughout the city.    
My vision for the festival:  To make the Afrikana Film Festival a destination event for the city of Richmond. Multicultural, independent filmmaking is growing exponentially and we are certain that Richmond and film lovers across the region are eager for an upbeat, creative, intelligent, welcoming space to celebrate art. We're also excited about continuing to grow our year-round events such as Noir Cinema, Evening with an Icon and Movies & Mimosas.