Historic church in Alexandria pledges $1M to Smithsonian
1/1/2016, 9:46 a.m.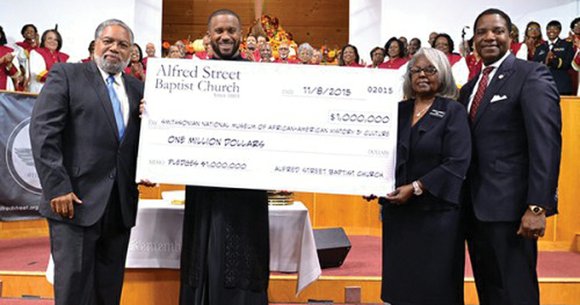 Free Press wire report
Alfred Street Baptist Church in Alexandria, one of the nation's oldest historically African-American churches in the nation, has pledged $1 million to the Smithsonian's new National Museum of African American History and Culture.
The church announced the donation on Dec. 23. It is the largest from a faith-based organization to date and allows the church to be designated as a founding donor to the museum, set to open on the National Mall in the fall of 2016.
The pledge donation was presented to Lonnie Bunch, founding director of the museum, by the Rev. Howard-John Wesley, church pastor; James L. McNeil, chairman of the church's Board of Trustees; and Pat Johnson, chair of the church deacon board.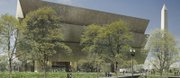 "We, as a church, understand the importance of learning about the accomplishments of African-American people," said Dr. Wesley. "We realize that if we don't tell and preserve our own history, our children will never know their real value."
He said the museum "promises to contribute immensely to the knowledge base of African-American history and culture" and will be a historic attraction and "visionary force in our communities and lives" for years to come.
Mr. Bunch said the museum was honored to have the church's support. Several members of the congregation also have contributed as individuals, including Earl W. and Amanda Stafford, who donated $2 million to support the museum's Earl W. and Amanda Stafford Center for African-American Media Arts, and two couples, Craig and Diane Welburn and James L. and Juliette McNeil, who each have donated $1 million.
"I challenge others in the faith-based community to follow suit to ensure that the history of African-Americans will be celebrated and shared with everyone, regardless of their background," Mr. McNeil said. "The story of our country's greatness cannot be told without sharing how we live and work together to help America thrive."
Established in 1803, Alfred Street Baptist Church has served as a prominent religious, educational and cultural organization for the Northern Virginia community and has nearly 7,000 members. The church celebrated its 212th anniversary on Nov. 15.