New D.C. museum opens with links to local people, history
9/24/2016, 10:17 a.m.
By Lauren Northington
When the National Museum of African American History and Culture opens this weekend with fanfare, a dedication ceremony Saturday with President Obama and other dignitaries and an anticipated crowd of thousands, a 130-year-old bell shipped to the museum from Williamsburg will ring — and acknowledge history.
The bell is among several historic items — and people — from the Greater Richmond area linked to the opening celebration of the $300 million museum that is part of the Smithsonian Institution.
Designed by architect David Adjaye of Freelon Adjaye Bond/SmithGroup, the new 400,000- square-foot building is at Constitution Avenue and 14th Street NW on the Washington Mall, near the Washington Monument.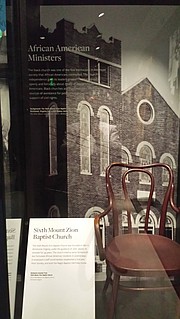 The building, with its contemporary design, will be filled with more than 33,000 cultural and historical artifacts devoted "exclusively to the documentation of African-American life, history and culture" spanning more than 400 years, according to the Smithsonian website.
The bell from Williamsburg's historic First Baptist Church was removed from the church last week and sent to Washington. The church was formed in 1776 by a group of enslaved and free black people, and is believed to be among the first black Baptist churches in the nation organized for and by African-Americans.
The bell was purchased in 1886, but was silent since the 1950s until recently. It was restored in partnership with Colonial Williamsburg, and rang for the first time in decades in February when the church launched the "Let Freedom Ring Challenge." More than 4,000 people from across the nation came to historic church on Scotland Street to ring the bell for racial healing, while thousands of others across the world rang it virtually online.
Several of the museum's artifacts have roots in Richmond, including belongings of Dr. Danielle Spencer-David, who is best known for her portrayal of "Dee," the little sister in the popular 1970s sitcom, "What's Happening!!"
Now a Richmond resident and veterinarian, Dr. Spencer-David will be celebrated at the museum for her role on the show that aired for three seasons on ABC.
"I can hardly believe it's happening," Dr. Spencer-David told the Richmond Free Press. "To be a part of a show that was speaking to the African-American community… shows like 'What's Happening!!' and 'Good Times' was an honor in itself, but now more than 40 years later to be honored is unbelievable."
Excerpts from the script of "What's Happening!!" along with materials from the set, the cast and photos will be featured in the performing arts and entertainment section of the museum.
Various works from late photographer and Richmond native Louis Draper will be featured in the culture section of the museum.
Mr. Draper, who lived in Richmond for more than 20 years, was known as a founding member of the 1960s African-American photography collective "Kamoinge," meaning "a group of people acting together" in the Bantu language Kikuyu.
Several pieces from Mr. Draper's 40,000-plus negatives and proof sheets will be on display.
Richmond resident Pamela H. Lawton had an opportunity to see both Mr. Draper's photos and her own family heirlooms during a preview Sept. 17 of the museum and is still celebrating. She was invited after donating personal items of her great-great-grandfather, Richard T. Jones, a longtime aide and clerk to Civil War Gen. Philip Sheridan.