2016 Strong Men & Women in Virginia History honorees
1/8/2016, 7:33 a.m.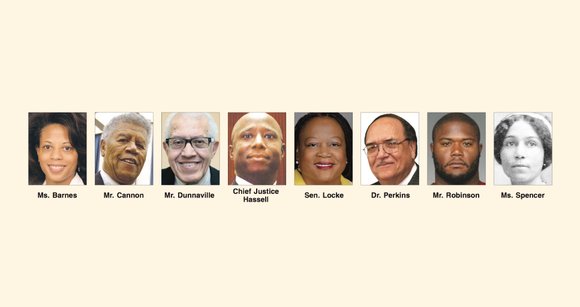 They can only be described as sculptors. They are responsible for the making and shaping of strong communities.
They are the 2016 Strong Men & Women in Virginia History who are being honored at a ceremony next month.
The honorees were announced this week by Dominion and the Library of Virginia, sponsors of the annual program celebrating the outstanding achievements of African-Americans.
This year's honorees:
• Melody C. Barnes of Richmond, former domestic police adviser for President Obama. Currently, she is vice provost for global student leadership initiatives at New York University and a senior fellow at the university's Robert F. Wagner School of Public Service.
• The late Thomas Cannon Sr. of Richmond, a humanitarian and philanthropist who, as a postal worker, contributed more than $150,000 to area nonprofits and community service organizations during his lifetime.
• Clarence M. Dunnaville Jr. of Roanoke, an attorney and civil rights activist now living in Richmond. After sitting in on arguments before the U.S. Supreme Court in the Brown v. Board of Education case in the early 1950s, he decided to go to law school to combat injustice. He worked in Richmond with the law firm of Hill, Tucker and Marsh for several years.
• The late Chief Justice Leroy R. Hassell Sr. of Norfolk who became the first African-American chief justice of the Supreme Court of Virginia in 2003. A graduate of Harvard Law School and partner at McGuireWoods law firm in Richmond, he served 12 years on the state's highest court.
• Sen. Mamie E. Locke of Hampton, dean of the School of Liberal Arts and professor of political science at Hampton University. Sen. Locke was the first African-American mayor of Hampton, serving from 2000 through 2004. Currently, she represents Hampton and Newport News in the Virginia Senate and is chair of the Virginia Legislative Black Caucus.
• Dr. Claude G. Perkins of Richmond, the 12th president of Virginia Union University. Dr. Perkins earned degrees from Mississippi Valley State University, Perdue University and The Ohio State University. A former superintendent of schools in Clark County, Nev., and Kansas City, Mo., Dr. Perkins came out of retirement in 2009 to become president of VUU, where he has increased student enrollment, retention and scholarships.
• Michael Robinson of Henrico, who retired in 2014 from the Seattle Seahawks after helping the team to a Super Bowl title. A 2011 graduate of Varina High School, he played quarterback and wide receiver at Penn State University, helping lead the team to a Big Ten Conference title in 2005. He was named the Big Ten Offensive Player of the Year the same year. He was drafted by the San Francisco 49ers in the fourth round of the 2006 NFL Draft and, in 2011, was named to the Pro Bowl with the Seahawks as a fullback. He also hosts free football camps in the Richmond area and founded the TEAM EXCEL program, which stresses academics, attendance and community service to high school students.
• The late Anne Bethel Spencer of Lynchburg, who was known as a Harlem Renaissance titan. She was the first African-American woman poet to be published in the Norton Anthology of Modern Poetry in 1973. She lived in her Virginia home her entire life and became friends with Harlem Renaissance writers such as James Weldon Johnson, Langston Hughes and W.E.B. Du Bois. The Anne Spencer House and Garden Museum is a Virginia Historic Landmark and her work is preserved in numerous libraries, including the Albert and Shirley Small Special Collection Library at the University of Virginia.
For more information on past honorees and current events, visit www.lva.virginia.gov/public/smw.