7 African-Americans honored for '2018 Strong Men & Strong Women in Virginia History'
2/17/2018, 9:16 a.m.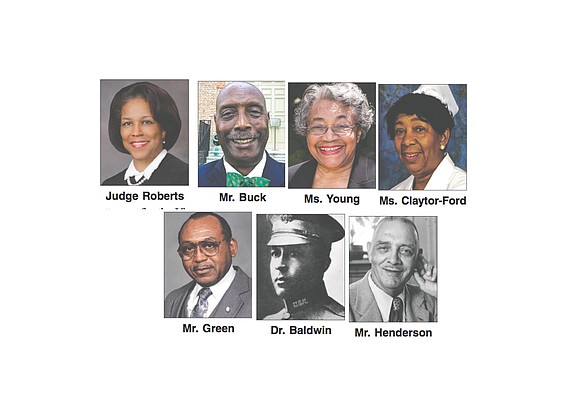 Seven outstanding African-American leaders were celebrated during the sixth annual "Strong Men & Women in Virginia History" awards program Feb. 7 at a Downtown hotel.
The program, sponsored by Dominion Energy and the Library of Virginia, honors past and present people who have made noteworthy contributions to Virginia.
The 2018 honorees:
• Retired Judge Angela Edwards Roberts of the Richmond Juvenile and Domestic Relations District Court. In February 1990, she was the first African-American woman elected to the bench in Virginia. She grew up in Caroline County, earned a undergraduate degree from Virginia Tech and a law degree from Emory University. Before being named to the bench, Judge Roberts served as an assistant commonwealth's attorney in Richmond and as a staff attorney for the Virginia State Bar. She was chief judge of the court for two terms and established an annual Adoption Day ceremony to celebrate the adoption of children from the foster care system. She retired in 2016 and continues to sit as a substitute judge.
• Calvin Coolidge Green of New Kent County, an educator and civil rights activist. He taught high school biology and chemistry in Richmond for more than 30 years. He was a colonel in the Army Medical Service Corps and later served in the Army Reserve Chaplain Corps. But he may be best known for his efforts to desegregate public schools in Virginia. As president of the New Kent County Branch NAACP, he filed suit in 1965 in his youngest son's name against the county's requirement that African-American students petition the New Kent County School Board to attend the public school for white students. His suit came more than 10 years after the U.S. Supreme Court's landmark Brown decision outlawing separate but equal public schools for African-American and white students. He died in 2011.
• Dr. Dana Olden Baldwin of Martinsville, a physician and entrepreneur. He graduated from high school in North Carolina at 16 and later earned his medical degree from Leonard Medical College of Shaw University in 1910. For many years, Dr. Baldwin was the only African-American physician in Martinsville. He opened St. Mary's Hospital in Martinsville, and started a number of businesses on property around his medical practice. With restaurants, hotel, a barbershop, dental practice, pharmacy and theater, the area became known as "Baldwin's Block," a commercial hub for African-Americans. He also operated the nearby Sandy Beach Resort and created the June German Ball, a social event and dance that featured famous entertainers. While the block no longer exists, the city established the Dr. Dana O. Baldwin Memorial Park to honor his legacy. He died in 1972.
• Warren Wesley Buck III of Hampton, a physicist and educator. One of the first African-American graduate students to attend the College of William & Mary, he joined the Hampton University faculty in 1984 and was part of the team that helped create the U.S. Department of Energy's Continuous Electron Beam Accelerator Facility in Newport News now known as Jefferson Lab. He helped create Hampton University's Ph.D. program in physics and, in 2007-08, served as co-chair of the Committee on New Opportunities in Solar System Exploration of NASA's New Frontiers Program. He is a former chancellor of the University of Washington at Bothell and currently serves on William & Mary's Board of Visitors.
• Mavis Claytor-Ford of Salem, a nurse and administrator. She grew up in Franklin County and, in 1970, was the first African-American to earn a bachelor's degree in nursing from the University of Virginia. She was one of the first black nurses employed by the university's hospital. She later served more than three decades at the Salem Veterans Affairs Medical Center, where she retired as the chief nurse for geriatrics and extended care.
• Edwin Bancroft Henderson of Falls Church, a basketball pioneer and civil rights activist. He earned his teaching certification from Miner Normal School, now the University of the District of Columbia, and furthered his studies Howard, Columbia and Harvard universities. In 1907, he created an African-American basketball league and pioneered physical education programs in Washington's segregated public schools. He organized the first track meets for African-American high schools and colleges and created athletic associations to foster athletic competition among talented black athletes. Remembered as the "Father of Black Basketball," he was inducted into the Naismith Memorial Basketball Hall of Fame in 2013. He organized the Falls Church Branch NAACP in 1915, and later served as president of the state NAACP in the 1950s. He fought racial discrimination in local housing and law enforcement practices; battled segregation in transportation, schools and other public facilities; and encouraged voter registration. He died in 1977.
• Marguerite Bailey Young of Fredericksburg, an educator and health care advocate. A native of Accomack County, she taught in Greensville County before relocating in 1957 to Fredericksburg, where she had a 40-year career in education, starting as a business teacher and later becoming a principal and then director of instruction for the city schools. She spearheaded the creation of a community tutoring program and a program to help minority students pay college application costs. As a advocate for health care, she also helped create programs for mobile health services in school districts and access to prescription medications. She served on the board of Mary Washington Hospital from 1988 to 2000 and helped establish its Community Service Fund, now the Community Benefit Fund, to support health care projects around Fredericksburg. She also directed the wellness center at Shiloh Baptist Church.
Additionally, Rashad Seaborne, a student at the Maggie L. Walker Governor's School in Richmond, and three other high school students were recognized during the event for their winning essays in the 2018 Strong Men & Strong Women Virginia History essay contest. Their work was selected from nearly 300 entries from students on the theme of struggles they face in their daily lives.
Other essay winners were McKenzie Bryant of Maury High School in Norfolk, Angie Muguruza of West Potomac High School in Alexandria and Kallie Berry of Gate City High School in Gate City.
Each student winner will receive an Apple MacBook Air laptop computer and $1,000 for their school.