7 African-Americans honored for '2018 Strong Men & Strong Women in Virginia History'
2/17/2018, 9:16 a.m.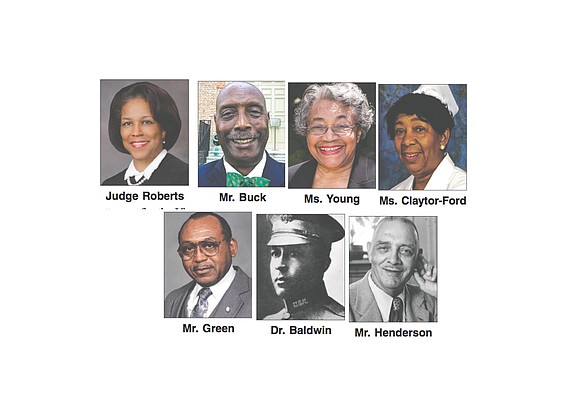 Seven outstanding African-American leaders were celebrated during the sixth annual "Strong Men & Women in Virginia History" awards program Feb. 7 at a Downtown hotel.
The program, sponsored by Dominion Energy and the Library of Virginia, honors past and present people who have made noteworthy contributions to Virginia.
The 2018 honorees:
• Retired Judge Angela Edwards Roberts of the Richmond Juvenile and Domestic Relations District Court. In February 1990, she was the first African-American woman elected to the bench in Virginia. She grew up in Caroline County, earned a undergraduate degree from Virginia Tech and a law degree from Emory University. Before being named to the bench, Judge Roberts served as an assistant commonwealth's attorney in Richmond and as a staff attorney for the Virginia State Bar. She was chief judge of the court for two terms and established an annual Adoption Day ceremony to celebrate the adoption of children from the foster care system. She retired in 2016 and continues to sit as a substitute judge.
• Calvin Coolidge Green of New Kent County, an educator and civil rights activist. He taught high school biology and chemistry in Richmond for more than 30 years. He was a colonel in the Army Medical Service Corps and later served in the Army Reserve Chaplain Corps. But he may be best known for his efforts to desegregate public schools in Virginia. As president of the New Kent County Branch NAACP, he filed suit in 1965 in his youngest son's name against the county's requirement that African-American students petition the New Kent County School Board to attend the public school for white students. His suit came more than 10 years after the U.S. Supreme Court's landmark Brown decision outlawing separate but equal public schools for African-American and white students. He died in 2011.
• Dr. Dana Olden Baldwin of Martinsville, a physician and entrepreneur. He graduated from high school in North Carolina at 16 and later earned his medical degree from Leonard Medical College of Shaw University in 1910. For many years, Dr. Baldwin was the only African-American physician in Martinsville. He opened St. Mary's Hospital in Martinsville, and started a number of businesses on property around his medical practice. With restaurants, hotel, a barbershop, dental practice, pharmacy and theater, the area became known as "Baldwin's Block," a commercial hub for African-Americans. He also operated the nearby Sandy Beach Resort and created the June German Ball, a social event and dance that featured famous entertainers. While the block no longer exists, the city established the Dr. Dana O. Baldwin Memorial Park to honor his legacy. He died in 1972.
• Warren Wesley Buck III of Hampton, a physicist and educator. One of the first African-American graduate students to attend the College of William & Mary, he joined the Hampton University faculty in 1984 and was part of the team that helped create the U.S. Department of Energy's Continuous Electron Beam Accelerator Facility in Newport News now known as Jefferson Lab. He helped create Hampton University's Ph.D. program in physics and, in 2007-08, served as co-chair of the Committee on New Opportunities in Solar System Exploration of NASA's New Frontiers Program. He is a former chancellor of the University of Washington at Bothell and currently serves on William & Mary's Board of Visitors.