5 African-American leaders recognized as 'Strong Men & Women in Virginia History'
2/14/2020, 6 a.m.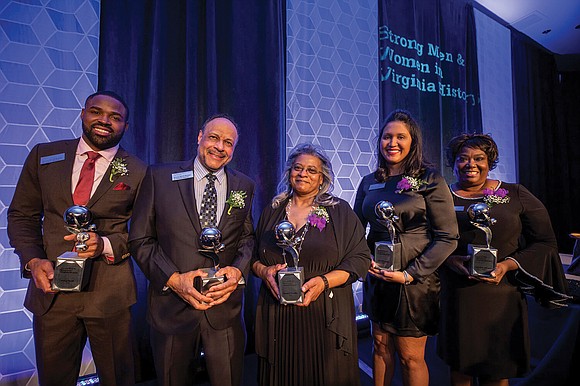 Five African-American leaders, including a retired judge, NASA scientist and inventor and a former NFL player, were honored during the eighth annual "Strong Men & Women in Virginia History" awards program Feb. 6 at a Downtown hotel.
The program, sponsored by Dominion Energy and the Library of Virginia, honors people from the past and present who have made noteworthy contribu- tions to the Commonwealth.
The 2020 honorees:
• Kaci M. Easley, vice president of state government relations with McGuireWoods Consulting.
A native of Charles City County, Ms. Easley is a graduate of Hampton University and master's degree holder from Virginia Tech. Under former Gov. Terry McAuliffe, she was the first African-American to serve as executive director of the Executive Mansion in Virginia. She helped spearhead projects that led to the unveiling of portraits in the mansion of Richmond civil rights attorney Oliver W. Hill and civil rights activist Barbara Johns. She also worked with then-First Lady Dorothy McAuliffe to make the mansion more environmentally friendly and accessible to all. She previously served as a confidential assistant to the state secretary of natural resources.
• Penny J. Franklin, community activist and labor leader from Montgomery County.
When her two children experienced unequal treatment at school, Ms. Frank- lin spoke out and became involved. She was the first African-American elected to the Montgomery County School Board in 1999 and has continued to win re-election since then.
Having worked on the shipping dock at Hubbell Lighting for 32 years, she also was elected president of Local 82160 International Union of Electronic, Electrical, Technical, Salaried, Machine and Furniture Workers-Communication Workers of America in 2008, and was elected to the IUE-CWA's executive council in 2013.
She has been active with the NAACP, helped establish the New Mountain Climbers giving circle to provide grants to social justice programs and co-founded the Community Group, which aims to empower the local African-American community and encourage black people to run for public office. The Community Group in 2012 established the Dialogue on Race to take action on inequalities in education, employment, law enforcement and service on public and private boards.
• Dr. Joycelyn S. Harrison, an inventor and former research engineer at NASA Langley Research Center in Hampton.
A native of Chattanooga, Tenn., Dr. Harrison holds degrees in chemistry and chemical engineering from Spelman College and the Georgia Institute of Technology. She jointly holds 23 patents involving piezoelectric materials that are used to help repair satellites and make improvements in devices such as robots, heart pumps and audio speakers.
She served as chief of NASA Langley's Advanced Materials and Processing Branch and was part of a team that developed THUNDER, Thin-Layer Composite-Unimorph Piezoelectric Driver and Sensor technology, which received R&D Magazine's annual award as one of the best innovations in research and development.
In 2009, she became manager of the low density materials program at the Air Force Office of Scientific Research in Arlington County, overseeing research and development of lightweight materials for use in aerospace technologies.
Dr. Harrison, who has won numerous honors and awards, currently serves as associate research dean at Kent State University's College of Aeronautics and Engineering.