Kenny Easley among 10 to be inducted into Virginia High School Hall of Fame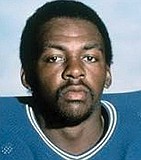 Kenny Easley, considered among the greatest athletes in state history, is among five athletes named to the Virginia High School Hall of Fame.
He will be inducted with a total of 10 people into the Hall of Fame, sponsored by the Virginia High School League, during a ceremony June 23 in Charlottesville.
Following a brilliant career at Oscar Smith High School in Chesapeake in the mid-1970s, Easley became a first team All-American defensive back at UCLA. He was the fourth overall pick in the 1981 NFL draft by the Seattle Seahawks. Easley played his entire pro career with the Seahawks, amassing 32 interceptions. 
Easley was a five-time All-Pro pick and four-time All-NFL performer. His jersey, No. 45, has been retired by the franchise. 
Other athletes to be inducted are Natalie Baird Etheridge of Park View-Sterling; Billy Baber of Western Albemarle; Rebecca Wakefield-Snider of Woodbridge and Larry Stepney of Norview.
Three coaches also will be inducted. They are Jeffrey Custer of Christiansburg-Woodbridge-Gar-Field-Lake Braddock; Bill Dee of Southampton-Phoebus-Oscar Smith; and Lou Sorrentino of George Mason-Culpeper County-C.D. Hylton-Mountain View.
Two contributors will be inducted — Nancy Burke of George C. Marshall-South Lakes and Ernie Hicks of Richlands.