Virginian Kenny Easley inducted into NFL Hall of Fame
Fred Jeter | 8/18/2017, 1:21 p.m.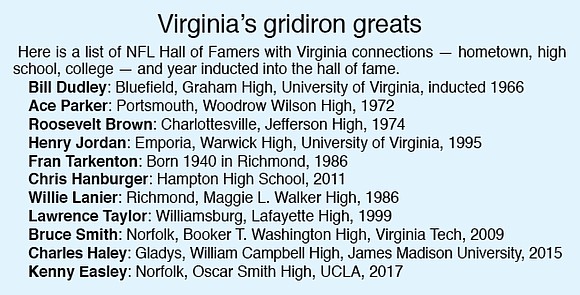 Native Virginian Kenny Easley's NFL career was short but sweet.
Limited to just seven seasons (81-87) due to a kidney ailment, Easley was a five-time All-Pro, NFL Defensive Player of the Year in 1984 and selected to the NFL's 1980s All-Decade team.
Known as "The Enforcer," he was a devastating tackler from his strong safety position, as well as a bruising pass defender for the Seattle Seahawks.
Spending his entire pro career in Seattle, he collected 32 career interceptions, including 10 in 1984. He returned his picks for 538 yards and three touchdowns.
Easley, now 58 and residing in Chesapeake with his wife, Gail, became the latest Virginian to be named to the NFL Hall of Fame with his induction Saturday, Aug. 5, in Canton, Ohio.
He was introduced by Tommy Rhodes, his former coach at Oscar Smith High School in Chesapeake. Easley grew up in South Norfolk, now a section of Chesapeake. He played quarterback at Oscar Smith High and became the first player in Virginia to both run and pass for more than 1,000 yards in a season.
He went on to become a three-time consensus All-American at UCLA, earning a degree in political science, and was Seattle's first round draft pick and the fourth player taken overall in 1981.
Easley was first nominated for the Hall of Fame in 1997 and had to wait 20 years for induction. He was selected into the hall by the Senior Committee, which takes over voting once an athlete has been retired 25 years.
The Class of 2017 included players Morten Anderson, Terrell Davis, LaDanian Tomlinson, Kurt Warner and Jason Taylor, and Dallas Cowboys owner Jerry Jones.