RRHA resident's chilly 3-year ordeal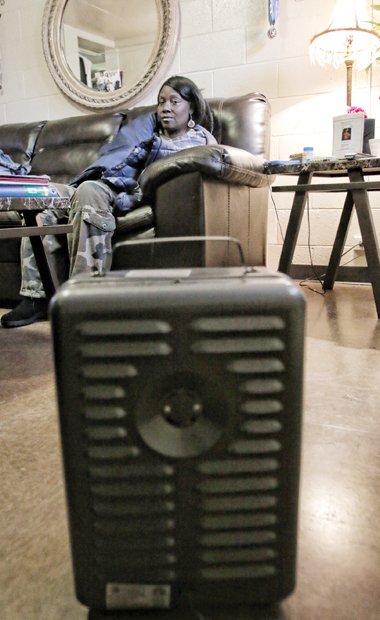 For the past three years, Tina Marie Shaw has had to rely on an electric space heater to keep the winter cold out of her public housing unit in Creighton Court.
"I worry about the heater starting a fire," said Ms. Shaw, who looks after her 9-year-old grandson, Xavia, her pride and joy and an honors student at a Richmond elementary school.
To avoid risk to herself and the child, "I unplug (the heater) at night when I go upstairs to bed, and turn it on in the morning."
The space heater has been the only option her landlord, the Richmond Redevelopment and Housing Authority, has provided to warm the living room and kitchen on the first floor of her two-bedroom apartment.
Three years ago, RRHA removed a leaking radiator from the first floor, but until this week had not replaced it, she said. A gas-fired radiator heats the bedroom area on the second floor.

When the Free Press sent an inquiry Tuesday to T.K. Somanath, RRHA's chief executive officer, about the radiator and other issues, Charles B. Williams, RRHA's vice president for property management, responded Wednesday by having a radiator installed in Ms. Shaw's apartment.
However, Ms. Shaw said the replacement radiator is leaking, too, and may be the same radiator that was removed in 2012.
"If it's the same one, it was never repaired. If it's a different one, it has the same problem. All I got was water leaking on the floor. It didn't get hot. This is ridiculous," said Ms. Shaw, who reported the latest problem to the maintenance office.
As has been the case since the radiator was removed, RRHA has provided her each winter with a space heater. But she had to take back the one she received in November because it stopped working. She said that despite her repeated requests, the space heater was not replaced until this week when she insisted on having heat in her downstairs.
"It was just too cold," she said. "We had to wear coats and blankets to be on the first floor. Or we stayed in bed."
Welcome to the world of public housing tenants like Ms. Shaw, who seem to be facing challenges living in units that are still among the city's most affordable housing for people with little money.
The future of these units is in question as RRHA and the city call for replacing them with new residential developments aimed at attracting people with a wider range of incomes, not just the poor. Creighton Court and its 504 units are first on the list of RRHA's large complexes targeted for replacement, despite extensive renovation a few years ago with a federal grant.
With such plans still on the drawing board, RRHA has struggled to keep existing units in good shape, citing waning federal support for public housing. In the past year, RRHA has faced big bills to fight infestations of bedbugs and roaches that have plagued residents in several of its communities.
Ms. Shaw has lived in Creighton Court for eight years. She and other tenants say that RRHA also has raised the cost of living in Creighton Court and other active complexes by boosting the amount they must pay for electricity and requiring them to pay for routine maintenance.