More left in the cold
Hillside Court residents are plagued by same problem facing Creighton Court — no heat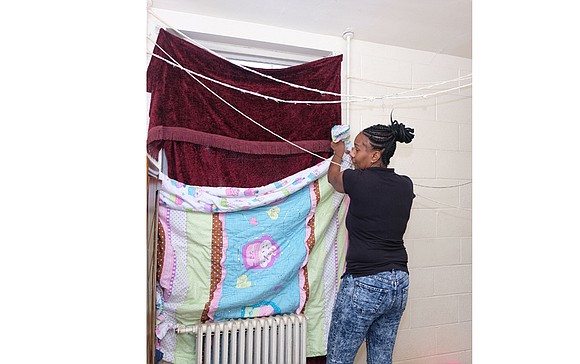 Kanya N. Nash thinks its fine that some Creighton Court residents have had a chance to stay at a hotel free of charge because the heat failed in their public housing units.
The 38-year-old mother of three just wishes that the Richmond Redevelopment and Housing Authority would show the same level of concern for her and her neighbors in Hillside Court who are facing the same conditions.
"I moved here in 2010 and I haven't had working heat. I have called and called maintenance, but nothing has changed," Ms. Nash said.
RRHA never provided her with a space heater; she had to buy her own. And to keep warm, she hangs blankets over the windows and uses them to seal the cracks in the sills and in her mailbox.
She knows it's a lease violation. But Ms. Nash, who lives on a government disability check, has had to wrap herself in blankets and keep the oven running just to keep the chill off.
 Just after Christmas, as the worst cold in decades gripped the area, Ms. Nash kept warm by staying with relatives and having her children stay with their grandmother.
"I've lived in public housing in New Jersey, too, and it is nothing like this. RRHA charges you if maintenance comes to look at a problem that a landlord is supposed to take care of.  It can add $20, $30 to your rent each time. That never happened in New Jersey," she said.
Ebony Turner has encountered the same problem. She thought she had secured low rent and safe and decent housing when she and her three children moved into a Hillside Court apartment in October after she lost her job.
But the heat never came on, Ms. Turner said. And when she complained to maintenance, she got space heaters. When she tried to run two, they blew the fuses. So she can only use one at a time.
"It's not just heat," Ms. Turner said. "I can't get RRHA to fix my door. It's been broken, and now the lock doesn't work. You call in a report and you never hear back."
Omari Al-Qadiffi of Leaders of the New South said the women are among a legion of residents in various public housing complexes who lack heat.
He compiled a list of 25 residents from Gilpin, Mosby and Whitcomb and other public housing communities who lack heat.
The spotlight has been on Creighton Court, where RRHA turned off furnaces in 12 buildings serving at least 49 families after finding water pipes connecting radiators to boilers were falling apart on the second floor, leaking water into ceilings and creating a threat of their collapse.
The issues bring public attention to the deteriorating condition of Richmond's public housing and the management failures of RRHA.
The housing authority is the last great bastion in the Richmond area for "safe, decent and affordable" housing for families with average incomes below $15,000 a year. With 4,000 units, RRHA is the largest public housing operator in the state and one of the largest on the East Coast.