Seek solutions to today's problems in working to realize Dr. King's dream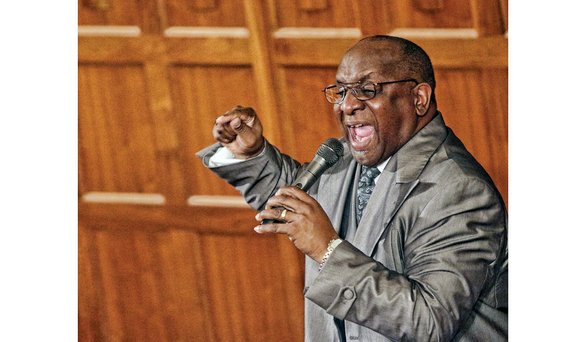 "I came to help keep his memory and his dream alive. This is the least I can do after what he did for us," said Barbara Moon after attending the 38th Annual Mass Meeting on Monday that honored the life and legacy of Dr. Martin Luther King Jr.
The retired Richmond Public Schools teacher was among a few hundred people who braved sub-freezing temperatures to attend the inspiring community gathering at Cedar Street Baptist Church of God in the East End on the national holiday honoring Dr. King.
The predominately youth-led event featured inspiring music and a stirring message from Dr. Alvin Edwards, a former mayor of Charlottesville who is the pastor of Mount Zion First African Baptist Church in that city.
His keynote message, "The Need For More Dreamers," was based on Dr. King's "I Have a Dream" speech delivered on Aug. 28, 1963, to more than 250,000 people at the Lincoln Memorial in Washington.
He called Dr. King's dream "a reflection of what God would have the universe to become," where there is "equality and the pursuit of life, liberty and the pursuit of happiness" for all people.
Dr. Edwards drew his message from the biblical story of Joshua in which God instructs Joshua following Moses' death to take the Israelites into the Promised Land, promising "I will be with you; I will never leave you nor forsake you."
"The question that haunts me is what has happened to the dream and dreamers today?" he asked.
He called on the audience to become involved in their homes, jobs, communities and schools "to make them better places."
Dr. Edwards said present-day dreamers should seek solutions to alleviate poverty, work to reform a discriminatory criminal justice system, help those addicted to drugs and alcohol, advocate for educational equity and seek racial unity "where we care about one another."
In brief remarks, Dr. Cheryl Ivey Green, executive assistant to Mayor Dwight C. Jones and executive minister at First Baptist Church of South Richmond, encouraged attendees to bring more young people to events like the Mass Meeting so that they can understand "that somebody went through some fire hoses, some folks were killed and some folks were fighting just so we could have a right to vote.
"We need more voices, we need more leaders to address those who are living below poverty levels and those who don't have a voice and those who are marginalized."
She cited the mayor's efforts to alleviate poverty through the Office of Community Wealth Building that is designed to implement poverty-fighting initiatives and the Center for Workforce Development that provides job training.
Several young people also distinguished themselves serving in leadership roles at the event.
Among them was Henrico High School junior Taylore Harris, who served as the worship leader; Glen Allen High School junior Jalah Mack, who read a moving tribute to civil rights icon Rosa Parks; and Highland Springs High School sophomore Jayla Hill, who led a prayer of commitment to fulfill Dr. King's dream.
All three were contestants in the 2015 Miss Unity Pageant sponsored by the faith group Sisters United of Richmond, which awards scholarships to students. Taylore Harris was the pageant winner.
Performing at the event were 11-year-old twins Paris and Endya Burton of Chesterfield County and their cousin, 10-year-old Jacqueline Dobbins of Richmond, known as "3T Diamonds," who sang Ron Kenoly's "If You Can Use Anything, Lord," and Destiny's Child's "Stand Up For Love."
Later, Quincy Harmon,15, on the keyboards and his 13-year-old brother, Malcolm, playing the drums, performed instrumental versions of Pastor Charles Jenkins' "My God Is Awesome" and Tamela Mann's "Take Me to the King."
Members of the Upsilon Omega and Alpha Eta chapters of Alpha Kappa Alpha Sorority served as ushers.
The Mass Meeting was organized by Living the Dream Inc., led by its executive director, the Rev. Ricardo Brown of Fifth Baptist Church in the West End.