Britton Wilson shines on, off track
7/2/2016, 12:06 a.m.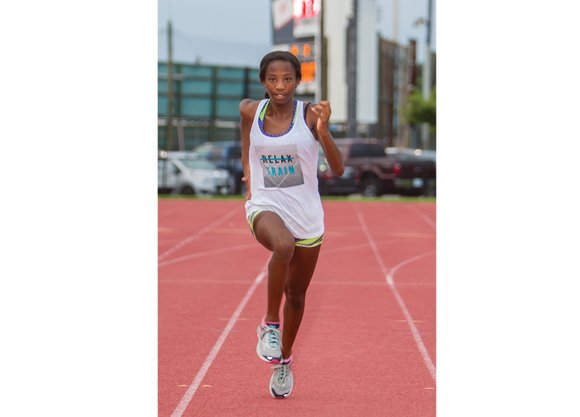 Britton Wilson draws applause in more ways than one.
The 15-year-old sparkles with her fast feet on the running track and with her crystal clear singing voice on stage.
As a freshman at Henrico County's Mills Godwin High School, Wilson was an instant track and field sensation under Eagles sprint Coach Gene Scott.
"They don't come along like Britton very often," said Coach Scott, who also coaches Wilson for the Central Virginia Track & Field Club.
"She's very unique … especially in regard to work ethic," he said.
In her first year of high school, Wilson won the state 5A indoors 300 meters and was second in the 400 meters at the state outdoors meet.
The crowning touch of her brilliant ninth-grade campaign was winning the 400 meters in the freshman division of the New Balance High School Nationals on June 11 at North Carolina A&T State University in Greensboro, where she ran for her club team.
"What you notice about Britton is that she hates to lose," said club Coach Anthony Callicut. "You might beat her once, but you're not likely to beat her twice."
Running away from a high-caliber field, Wilson covered the one-lap sprint in Greensboro in a jaw-dropping Godwin High School record 54.3 seconds.
Already, she holds the Godwin High School standards for the 200 meters (24.8) outdoors, and for the 300 meters (39.9) and 500 meters (1:17.8) indoors, and she's just warming up.
On top of that, she is an accomplished long jumper, having leapt 17 feet, 3 inches.
Off the track, she excels in Godwin's Eagles Combination co-ed singing group and also with the all-girls Acapella, and she also made the All-County Chorus.
She was selected for a solo — "Lean on Me"— during a performance by the Eagles Combination.
Music and sports run in the Wilson family.
Britton sang with her parents Vince and LeYuani Wilson last winter during the West End Assembly of God's presentation of Glorious Christmas Nights.
A native of Sumter, S.C., Vince Wilson came to Richmond in the late-1980s to play basketball for Virginia Commonwealth University Coach Mike Pollio. He was a starting guard on the Rams' 1988 team, starring Chris Cheeks and Phil Stinnie, that reached the NIT quarterfinals before losing at Connecticut.
LeYuani Saunders Wilson was a track sprinter at Henrico County's Douglas Freeman High School and later a cheerleader at James Madison University.
Britton's older sister, Jantsen, runs track at JMU and her twin brother, Braeden, plays basketball and volleyball and runs track for Godwin High.
Despite her father's basketball reputation, Britton was never attracted to the round ball sport.
"I went to (basketball) camp once, and it just wasn't for me," she said, shrugging her shoulders.
Instead, as a youngster, she learned tumbling while taking gymnastics at Richmond Olympiad and Above the Bar Gymnastics Academy, and showed off her back handspring with cheering squads at FAME Allstars and with Holman Middle School in Henrico.    
The nimble athlete gave up gymnastics in eighth grade to focus on track.
"I really didn't see any future in it," she said of gymnastics. "But I still enjoy jumping on a trampoline. And if I see an open field, I'm likely to go tumbling across it."
Wilson's coming-out party in track was as an eighth-grader when she turned heads with a 56.4 time in the 400 meters in a meet in Durham, N.C.
Asked about goals, Wilson said she aspires to challenge the National prep record (51.68) set this year by Sydney McLaughlin of Union Catholic High School in New Jersey.
"That's the kind of person (Britton) compares herself to," said Coach Scott.
"But aside from that, I'm most impressed with her as an all-round person. Off the track, you'd never know she even ran. She's a very humble young lady."