Father, sons in MJBL headed to Inner City Classic
7/2/2016, 12:08 a.m.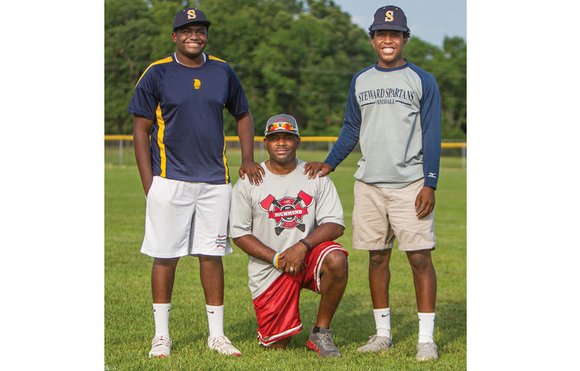 As the public information officer for the Richmond Department of Fire and Emergency Services, Lt. Christopher W. Armstrong reports information to the news media.
As coach of a Metropolitan Junior Baseball League (MJBL) squad headed for the Chicago area, he hopes to make some news.
Armstrong will be coaching a 19-and-under Richmond squad July 18-23 at the MJBL Inner City Classic and Black World Series in Matteson, Ill., south of Chicago.
This won't be his first out-of-town trip with a bat and glove. Armstrong was an impressionable teen outfielder in 1991, when he played on a team representing Richmond in the inaugural Inner City Classic in Columbia, S.C.
"We got beat every single game, but it was a great experience," he recalled.
The "experience" continues. Armstrong has been involved with the MJBL long enough now to turn Richmond's program into an inspiring second-generation story.
His list of talented U-19 players includes his son, outfielder Josiah Armstrong, a recent graduate of The Steward School in Henrico County.
Josiah is headed to Virginia Tech, where he hopes to make the Hokies' Atlantic Coast Conference baseball squad as a walk-on.
Also, Armstrong's younger son, Jujuan Armstrong, a rising junior at The Steward School, will be playing for Richmond's U-16 team at the classic under Coach Adrian Lightner.
Armstrong's squad will feature youngsters from all across the Richmond area. Among the expected standouts are Tyriq Branch of Henrico High School and Chris Hayden from L.C. Bird High School in Chesterfield County.
Branch and Hayden also were selected to participate in a youth camp sponsored by Major League Baseball earlier this month in Cincinnati.
The U-19 age division enables MJBL to recruit some players already in college. Armstrong's U-19 roster includes Sam Irwin, a former pitcher/catcher at Thomas Jefferson High School in Richmond who is a rising sophomore at Virginia Commonwealth University.
"We really have no boundaries, except for age, in putting our teams together," said Armstrong. "What we've got, in a sense, is all-star teams from the inner city and surrounding counties."
The MJBL is designed to provide an affordable opportunity for youngsters who might otherwise never set foot on a baseball diamond.
"We're here to encourage kids — mostly minorities — to play baseball," said Armstrong. "Youngsters need role models. You're not likely to play a game if you never see anyone who looks like yourself playing."
Baseball is a difficult — and often expensive — game to play, particularly without parental support. For starters, a high-end bat nowadays can run up to $400. Then, to get ahead, there are prohibitive costs associated with camps, clinics and travel.
"I didn't have much of a relationship with my father," said Armstrong. "But that motivated me — motivated me not to continue the cycle."
In addition to their MJBL teams, Chris and Tychia Armstrong's sons also have played for various other teams, including the Chamberlayne-Laburnum Athletic Association of the Babe Ruth League.
Josiah has attended baseball camps at the University of North Carolina, Clemson University and Virginia Wesleyan College, and suited up for Perfect Game, an exposure travel squad.
Some young men with MJBL will go on to play in college, and a tiny percentage will compete professionally. Richmond's MJBL alumni list includes Jackie Bradley Jr., now with the Boston Red Sox.
Unlike the more popular urban youth sports of football and basketball, baseball can develop into a lifetime activity, as Armstrong has experienced. At 41, he's still swinging for the fences with two softball teams — the Richmond Fire squad at the Glen Allen Complex and the New York to Virginia outfit at Henderson Complex in North Richmond.
The MJBL has started a fundraising drive to help cover the Richmond teams' travel expenses to the classic at www.gofundme.com/2aqrc6s
Last summer, Armstrong's MJBL Richmonders finished third in their division at the Inner City Classic in Orlando.
Spearheading Richmond's U-14 team in late July will be Michael Berry, another longtime MJBL volunteer, who, in addition to coaching and organizing, drives the team van.
In fact, it was Berry, who coached Richmond's first Inner City Classic team in 1991 that included a young Chris Armstrong.