58: Number of candidates certified to run for mayor, City Council and School Board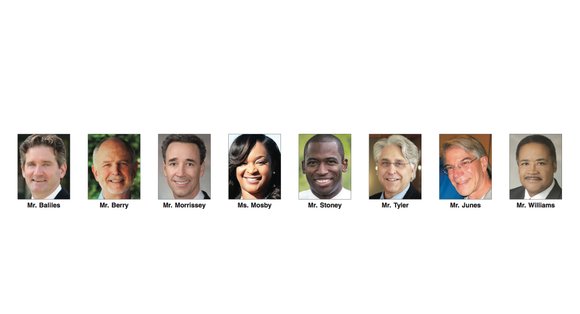 Richmond voters will have plenty of choices for mayor, City Council and the School Board in the November election, when they also will be helping to elect a president, vice president and member of Congress.
The three-member Richmond Electoral Board last week certified 58 candidates to run for city offices.
The list would have been longer, but 15 potential candidates were disqualified for failure to meet filing requirements, the city Voter Registrar's Office reported.
The main focus for voters will be on replacing two-term Mayor Dwight C. Jones, who is barred by the city's charter from a seeking a third consecutive, four-year term. Mayor Jones will leave office Dec. 31.

Mayor
Eight candidates qualified to run for the city's mayor. At this point, expectations are high that with so many candidates, the city will have its first runoff election for mayor following the Nov. 8 balloting.
Under the rules, if one of the candidates does not win five of the city's nine districts, the requirement for outright victory, the two candidates who receive the most votes in the Nov. 8 balloting would then face off in an election in December.
Six of the eight chief executive candidates are considered the most viable, having reported raising campaign funds and already having significant name recognition.
They are:
• Jon T. Baliles, outgoing 1st District City Council representative and real estate broker.
• John F. "Jack" Berry, retired executive director of the Downtown booster group Venture Richmond.
• Joseph D. Morrissey, criminal attorney and former General Assembly member.
• Michelle R. Mosby, outgoing 9th District City Council representative, the current council president and a small business owner.
• Levar M. Stoney, former Virginia secretary of the commonwealth.
• Bruce W. Tyler, architect and former member of City Council.
Also on the ballot, but not yet reporting raising any money are:
• Bobby A. "BJ" Junes, a retired real estate consultant and political newcomer.
• Lawrence E. Williams Sr., an architect and perennial candidate.
City Council
City voters also will fill the nine seats on City Council and elect nine School Board members. However, voters in the city's nine districts will be able to cast a ballot for a representative for the district in which they live.
At least four new people will fill seats on the council, as two incumbents, Mr. Baliles and Ms. Mosby, are running for mayor and two others, Charles R. Samuels, 2nd District, and Kathy C. Graziano, 4th District, are not seeking re-election.
In the remaining five districts, council incumbents will be seeking new four-year terms against challengers, mostly political newcomers.
Here are the certified candidates running for Richmond City Council:
1st District: Andreas D. Addison, Jonathan M. Cruise and Harry H. Warner Jr.
2nd District: A.S. "Charlie" Diradour, Kimberly B. Gray and Rebecca K.W. Keel.
3rd District: Incumbent Chris A. Hilbert will face Milondra B. Coleman, Dorian O. Daniels and Hassan J. Fountain.
4th District: Timothy E. Grimes, Kristen Nye Larson, Larry A. Olanrewaju, Jeff B. Thomas Jr. and Johnny S. Walker.