Holocaust survivor Elie Wiesel, 'conscience of the world,' dies at 87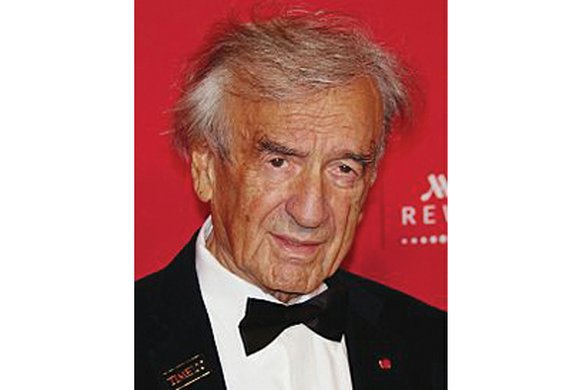 Elie Wiesel, the Holocaust survivor and Nobel Peace Prize winner whose memories of persecution and teachings on tolerance made him one of the world's most revered moral voices, has died at 87.
"My husband was a fighter," Marion Wiesel said in a statement. "He fought for the memory of the 6 million Jews who perished in the Holocaust, and he fought for Israel. He waged countless battles for innocent victims regardless of ethnicity or creed."
Mr. Wiesel died Saturday, July 2, 2016, at his home in New York City.
His wife was among mourners who attended a private funeral service Sunday at the Fifth Avenue Synagogue on Manhattan's Upper East Side. A public memorial will follow at a later date, the Elie Wiesel Foundation for Humanity stated.
Condolences from leaders around the world filled social media with memories of Mr. Wiesel demonstrating the triumph of goodness over inconceivable horrors.
His advocacy on behalf of Holocaust victims earned him the Nobel Peace Prize in 1986. He told their story in his landmark book "Night," maintaining that "to forget the dead would be akin to killing them a second time."
"Elie Wiesel was one of the great moral voices of our time, and in many ways, the conscience of the world," President Obama said in a statement.
"Elie was not just the world's most prominent Holocaust survivor, he was a living memorial. After we walked together among the barbed wire and guard towers of Buchenwald where he was held as a teenager and where his father perished, Elie spoke words I've never forgotten – 'Memory has become a sacred duty of all people of goodwill.' "
As an author, playwright, professor and speaker, Mr. Wiesel dedicated his life to the remembrance of the 6 million Jews and millions of gays, Roma and others who perished in the Nazi death camps.
He survived two of those camps — Buchenwald and Auschwitz — and retold the horrors of that experience in service of the idea that remembering Hitler's planned extermination of the Jews will make genocide a less likely fate for his or any other people.
In awarding Mr. Wiesel the Peace Prize, the Nobel Committee praised him as a "messenger to mankind" and "one of the most important spiritual leaders and guides in an age when violence, repression and racism continue to characterize the world."
A deeply religious Jew, Mr. Wiesel spoke out against anti-Semitism and in support of Israel, and for the release of the millions of Jews trapped in the Soviet Union.
He used his moral authority to call attention to persecuted peoples the world over, including the victims of apartheid in South Africa, the war in former Yugoslavia, the Kurds, victims of famine in Africa, Nicaragua's Miskito Indians, Cambodian refugees and Argentina's "disappeared."
"Sometimes we must interfere. When human lives are endangered, when human dignity is in jeopardy, national borders and sensitivities become irrelevant," Mr. Wiesel once said.
"Whenever men or women are persecuted because of their race, religion, or political views, that place must — at that moment — become the center of the universe."