Say what?
Donald J. Trump wins Republican nomination after wife steals speech from Michelle Obama
7/22/2016, 11:53 a.m.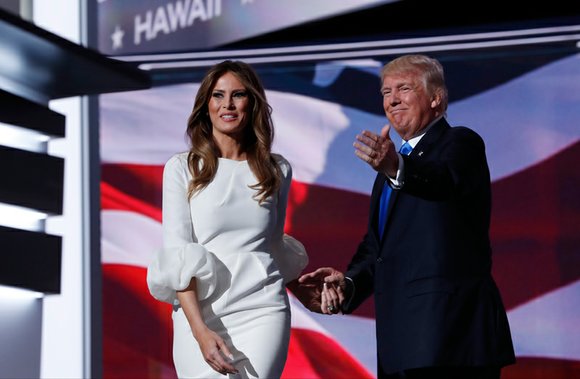 By Alexander Panetta
The Canadian Press
CLEVELAND Donald J. Trump crossed the threshold of history the way he ran the Republican race: Soaked in drama, surrounded by back-stabbing, jeered by well-heeled critics as a no-hope amateur, cheered by a die-hard base and embraced at the finish line
by his family.
The billionaire businessman was officially nominated as the
Republican Party's candidate for president Tuesday in a surreal day befitting one of the most surreal campaigns in modern political history.
It started with intrigue over how the party of Honest Abe man- aged to allow the nominee's wife to deliver a speech sprinkled with paragraphs of pilfered oratory. Hours later, it ended with his children hugging on the convention floor as he officially reached the number of necessary delegates.
Pixels of digital fireworks erupted on the overhead scoreboard. A Muzak-style rendition of "New York, New York," blared on the speakers. And on the convention floor, the nominee's namesake officially put him over the top in the roll call from his home state.
"Congratulations, Dad. We love you," Donald Trump Jr. shouted above the rumble of a loud-but-not-unanimous crowd, which chanted, "Trump! Trump! Trump!"
"It's not a campaign anymore. It's a movement. It's my honor to be able to throw Donald Trump over the top in the delegate count tonight," Donald Jr. said.
There were only faint remnants of the once-bitter opposition to Mr. Trump within the party. The vote from New York was followed by Puerto Rico, which announced its delegates belonged to U.S. Sen. Marco Rubio of Florida.
The crowd also booed as the delegation from the nation's capital, the District of Columbia, awarded Mr. Trump zero delegates.
But Mr. Trump won handily.
His moment of triumph came in yet another day that presi- dential election historians will note for its novelty. On Monday night, Melania Trump had recited near-verbatim snippets of a 2008 speech from First Lady Michelle Obama, causing a bout of finger-pointing at the Republican convention.
There were calls Tuesday for heads to roll — again.
The GOP party chair suggested someone should be fired. Donald Trump's campaign manager, who was just fired, suggested some-