That's the ticket
Hillary Clinton shatters glass ceiling with historic presidential nod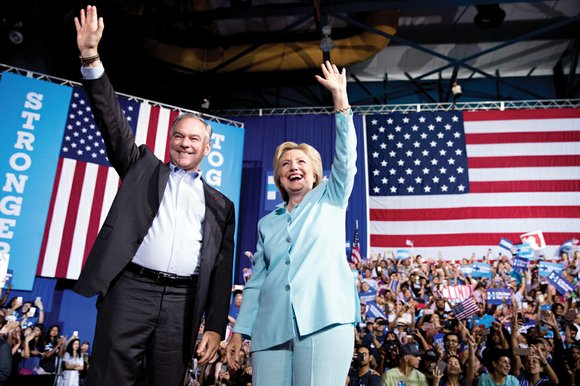 Hillary Rodham Clinton swept into history Tuesday as Democrats, eager to present a face of unity to a national television audience, chose her to be the party's standard-bearer in the Nov. 8 presidential election.
She is the first woman to head a major political party's ticket for president in U.S. history.
The delegates also suspended the convention rules Wednesday to endorse by acclamation U.S. Sen. Tim Kaine of Virginia as her vice presidential running mate.
The Clinton-Kaine ticket, called "safe" by some, was heralded by others as the 2016 Dream Team, a duo with a solid record of government experience who can effectively lead the nation from Day 1 if elected.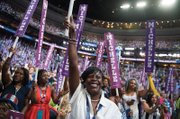 At the dramatic climax of a state-by-state roll call on Day 2 of the Democratic National Convention in Philadelphia, Mrs. Clinton's former rival, U.S. Sen. Bernie Sanders of Vermont, told the convention chairwoman from the floor that Mrs. Clinton, 68, should be selected as the party's nominee.
The thousands of delegates crowding the Wells Fargo Center erupted in cheers.
"If there are any little girls out there who stayed up late to watch, let me just say: I may become the first woman president, but one of you is next," Mrs. Clinton told the convention via a video satellite link.
The final delegate count was 2,842 for Mrs. Clinton, 1,865 for Sen. Sanders and 56 "no" votes.
In nominating Mrs. Clinton, delegates made the point that the selection of a woman was a milestone in America's 240-year-old history. Women got the right to vote in 1920 after ratification of the 19th Amendment to the U.S. Constitution.
Mrs. Clinton's husband, former President Bill Clinton, portrayed her in a speech to the convention as a dynamic force for change as he made a case for her White House bid against Republican Donald J. Trump.
"Hillary is uniquely qualified to seize the opportunities and reduce the risks we face, and she is still the best darn change maker I have ever known," he said, hitting back at Republican arguments she is a Washington insider tied to the status quo.
Mrs. Clinton, a Yale-educated lawyer who worked on children's issues with the Children's Defense Fund, tried unsuccessfully to expand health care access as first lady, represented New York in the U.S. Senate during the 9/11 terrorists attacks and led America's foreign policy initiatives as secretary of state under President Obama.
The Democratic nominee, who promises to tackle income inequality, tighten gun control and rein in Wall Street if she becomes president, is eager to portray Mr. Trump, a businessman and former reality TV show host, as too unstable to occupy the Oval Office.
Mr. Trump, 70, who has never held elective office, got a boost in opinion polls from his nomination at the Republican National Convention in Cleveland last week, where Indiana Gov. Mike Pence was selected as his vice presidential running mate.
He had a 2-point lead over Mrs. Clinton in a Reuters/Ipsos opinion poll released Tuesday, the first time he has been ahead since early May.