Clinton primary wins assure Dem nomination
6/10/2016, 5:46 a.m.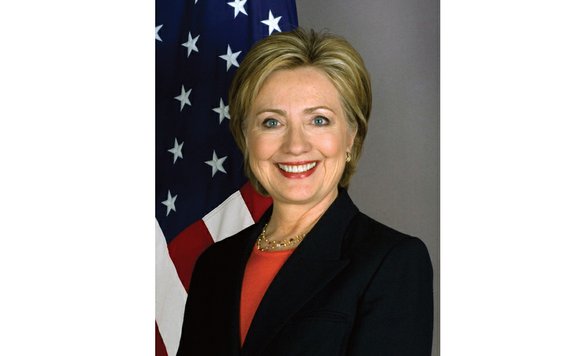 Free Press staff, wire reports
BROOKLYN, N.Y.
Eight years after conceding the Democratic Party's presidential nomination to then-rival Barack Obama, the first African-American to be the standard-bearer for a major political party, Hillary Clinton is poised to make history of her own.
Tuesday night, the former U.S. senator and secretary of state took her place as the Democratic Party's presumptive presidential nominee after claiming victory over persistent U.S. Sen. Bernie Sanders of Vermont.
"Thanks to you, we've reached a milestone," Mrs. Clinton told cheering supporters at the Brooklyn Navy Yard, noting that, for the "first time in our nation's history," a woman would lead a major-party ticket.
After being formally nominated at the Democratic Party's national convention in late July, Mrs. Clinton will face off against the presumptive Republican nominee, racism-spouting businessman Donald Trump, who is holding a campaign rally at the Richmond Coliseum Friday, June 10.
For many, her triumph was a moment to savor.
Just as President Obama's nomination and later election in November 2008 was an astonishing and transcendent moment for a nation built on slavery, so Mrs. Clinton's win is a huge moment for a country where women were once considered property of fathers or husbands and were unable to vote or own property.
Mrs. Clinton treads in the footsteps of many others. Women have been running for the presidency since 1872, long before they gained the right to vote in 1920. Nearly 30 women have topped tickets for lesser third parties in the ensuing 144 years.
Before Mrs. Clinton, others had tried and failed to get a major-party nomination, including Republicans Margaret Chase Smith in 1964 and Carly Fiorina this year and Democrats Shirley Chisholm in 1972 and Carol Moseley Braun in 1974.
During Tuesday night's celebration, Mrs. Clinton spoke about the struggle she and others endured to reach this point.
"Tonight's victory is not about one person," said Mrs. Clinton, who was framed by American flags draping the walls behind her. "It belongs to generations of women and men who struggled and sacrificed and made this moment possible."
A video prior to her speech spliced images of pivotal moments in the fight for women's equality in the United States — from the suffragettes and the women's liberation movement — with shots of her climbing stairs to address supporters.
For about 3 minutes, to the strains of Sara Bareilles's "Brave," Mrs. Clinton basked in the cheers of her supporters, including her husband, former President Bill Clinton.
She was obviously pleased, but appeared calm. Then, suddenly, she exhaled, lifted her arms to the sky in a victory salute, and beamed with delight — a moment of release after the months, years, decades of effort needed to reach this point.
Even the shadow that has dogged her campaign — a federal probe into her use of a private email server while she served as the nation's top diplomat — seemed to disappear on this night.
She clinched the nomination following primary voting Tuesday in six states. Her victories in New Jersey, New Mexico, South Dakota and California allowed her to hit the magic number of 2,383 delegates needed to clinch the nomination.