Donations allow Armstrong High to 'play ball'
6/3/2016, noon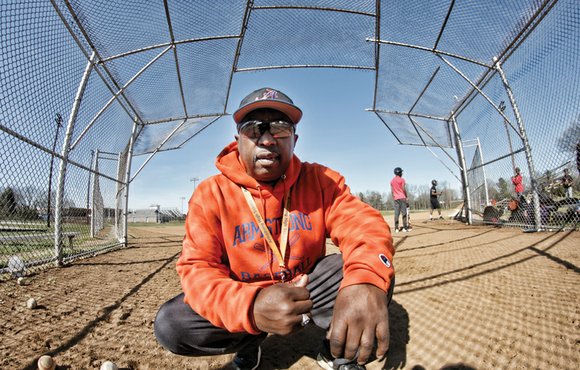 The enthusiastic words "Play ball!" were heard on Armstrong High School's campus this spring for the first time in many baseball seasons.
Now, the East End school is hopeful its girls softball team also will have a home field to call its own.
"Progress is being made," says Activities Director Ksaan Brown.
The Wildcats baseball team, coached by Lawrence Day, played three home games this season, thanks to an upgrade of its long-neglected diamond.
For at least the previous 10 years, all of the team's games were played away from home.
Money to spruce up the field was raised through private donations. The renovations included a drainage system, new infield dirt and bases, a pitcher's mound and some fencing.
Brown says additional field improvements are planned.
This season's home games were against Thomas Jefferson, Varina and John Marshall High schools.
The Wildcats had three eighth-grade starters from Martin Luther King Jr. Middle School and played a sub-varsity schedule.
Brown is optimistic the Wildcats can graduate to a full varsity schedule in 2017.
"It's probably the best collection of talent we've had in a while," Brown said. "If Coach Day can keep these kids together, we have a chance to move up."
There is also hope, at long last, for Coach Glenn Anderson's softball program.
Armstrong has never had an on-campus softball field and has always played its entire schedule on the road. That is likely to change now that Armstrong has received a $5,000 Toolbox for Education donation from the Lowe's Charitable and Education Fund.
Brown says that revenue will be used to create a softball field just to the west of the main building, adjacent to the faculty parking lot.
The field also would be used for softball camps and clinics and be available to younger players during the summer.
Coach Anderson's team went 2-10 this season and was forced to forfeit their Conference 26 tournament game against Hopewell because they didn't have enough players.
"We had the Senior Awards program the same day and some of the girls chose the awards over softball," explained Brown.
Regarding the future of Wildcats athletics, Brown said Armstrong will remain in Conference 26 next season and then return to a full Capital District schedule for 2017-18. The move is being dictated by the ever-evolving Virginia High School League.
Armstrong's Conference 26 rivals are Thomas Jefferson, George Wythe and John Marshall High schools from Richmond, along with Petersburg, Hopewell and Spotsylvania high schools.
The Wildcats were joined in the old Capital District by Henrico, Highland Springs, Varina and Glen Allen High schools from Henrico County, and Lee-Davis, Hanover and Atlee high schools from Hanover County.
Armstrong is by far the smallest school in terms of enrollment among Capital District members.