Armstrong bracing for bigger opponents
Fred Jeter | 9/2/2016, 4:18 p.m.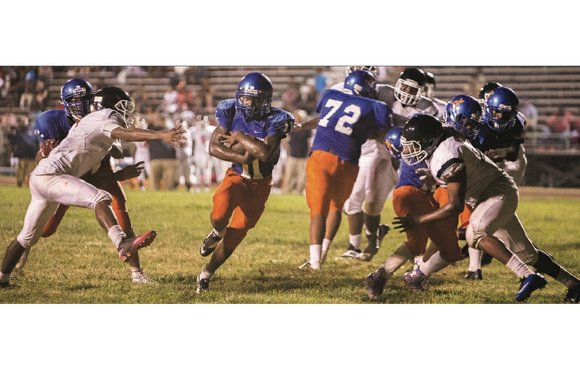 Armstrong High School football Coach McDaniel Anderson says he is searching for a cure for what he calls "the inner city blues."
There is no remedy in sight, at least not in the East End.
Coach Anderson's Wildcats started this season with just 24 players on the roster. Only three are seniors and just three are listed as being at least 200 pounds.
"It's going to be our little boys against (the opponents') big boys," lamented Coach Anderson, now in his second season as head coach at his alma mater. "We'd do better if it was online football, like kids play on Play Station."
The Wildcats lost their final nine games last season by a combined 381-27. The team started this season last Friday with a humbling 8-6 home loss to George Wythe High School.
Armstrong has two more games against schools in its 3A enrollment division. The Wildcats will host Thomas Jefferson High School on Friday, Sept. 2, then John Marshall High School on Friday, Sept. 9.
Then comes a string of likely mismatches against much larger schools from Henrico and Hanover counties.
"Those are the only games we should be competitive in," Armstrong Activities Director Kwaan Brown said of the matchups against other Richmond schools.
"Our schedule has gotten so tough, ridiculous."
As years have passed, the city high school populations have shrunk and the county high school populations have grown.
Brown said Armstrong is not contractually obligated to play what amounts to the old Capital District schedule, but does so out of necessity.
That means 3A Armstrong High will play seven of 10 games against either 4A or 5A schools.
The Virginia High School League lists Armstrong's enrollment at 950, but Brown contends it's more like 800.
By comparison, Armstrong's upcoming opponents are Varina High School, 1,830 students; Highland Springs High School, 1,800 students; Atlee High School, 1,712 students; Henrico High School, 1,780 students; Lee-Davis High School, 1,556 students; and Hanover High School, 1,300 students.
Armstrong High, along with the other city schools, continue to play their longtime district rivals for a variety of reasons.
"It's hard to find different schools to play," said Brown. "You've got to get lucky and match your open dates with their open dates. And in some cases, you'd be dealing with a lot of travel.
"I'd like to add Petersburg and Hopewell, but they make money playing their old (Central District) schedule."
City school officials are fearful that if they break away from the county schools for football, they may lose those opponents for basketball, too.
Around Richmond, basketball season is known as "get back" following the inevitable football struggles.
Coach Anderson's program took a brutal hit earlier this summer when quarterback Jahizz Carter transferred to Hampton High School for his senior year.
Brown points to "recruiting" as one reason for the city schools' problems.
"You see a lot of county coaches at our rec league games in the city. A lot of our kids wind up at Varina and Highland Springs," said Brown, noting that when he was at Meadowbrook High School in Chesterfield, the coach would attend the city recreation league games.
If bubbly personality and style are the answer, Coach Anderson is the man for the job.
But there are socioeconomic problems lurking everywhere. It's never easy.
"A lot of times you've got to pick them up, find something for them to eat. Coaching is the last thing you do," said the 65-year-old coach, who underwent bypass surgery last year.
Brown and Coach Anderson are crossing their fingers Armstrong's roster will grow once school starts next week, but there is slim chance of fielding a junior varsity team.
County schools field not only JV teams, but often freshmen teams as well. Anderson refers to Armstrong's varsity as "on-the-job training."
"Sometimes other schools will have more seniors than we have total players," Coach Anderson said.