George Wythe Bulldogs hoping to climb out of slump
Fred Jeter | 8/26/2016, 9:44 a.m.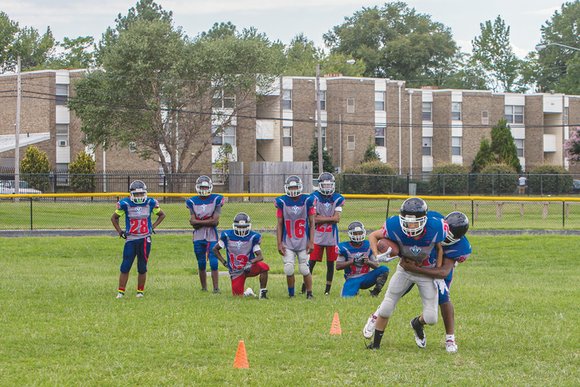 Imagine you're a lightweight boxer, and every time you enter the ring you're facing a heavyweight.
That's about how George Wythe High School's football Bulldogs must feel.
The results are predictable. The South Siders were 0-10 last year, outscored 461-38. The team has just two wins in the last 10 years.
The Bulldogs might be renamed the "Underdogs."
George Wythe High's long list of woes starts with an unrealistic schedule it can't seem to shake.
The Virginia High School League lists George Wythe High's enrollment as 985 students and classifies the Bulldogs as 3A on a 1-to-6 scale.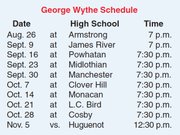 Week in and out, the Bulldogs face teams from Division 4, 5 and 6 schools from the Old Dominion District.
George Wythe High's only Division 3 foe is the opener, Friday, Aug. 26, at Armstrong High School when Coach Dion Foxx will face his godfather, Wildcats Coach McDaniel Anderson.
Armstrong High's enrollment is 950 students.
The enrollments of George Wythe High's other opponents:
James River, 2,040; Manchester, 2,027; Clover Hill, 1,859; L.C. Bird, 1,850; Huguenot, 1,490; Powhatan, 1,450; Midlothian, 1,485; and Monacan, 1,344.
"I know we're outmanned," said Coach Foxx, "but I straight up tell our kids (the other team) can only put 11 out there at a time. It's still 11 on 11."
Classification aside, there were 315 football-playing VHSL members in 2015 and, according to MaxPreps.com, George Wythe High ranked 311.
It's not just enrollment issues Coach Foxx deals with in the inner city.
To be eligible to play, athletes in Richmond Public Schools must have a 2.0 GPA. By comparison, Chesterfield County Public Schools requires athletes to pass five subjects the previous semester.
Coach Foxx would much prefer Chesterfield County's rule.
"We lose a lot of kids to the 2.0," said Coach Foxx. "It hurts."
Generally, because of the dearth of numbers, the Bulldogs can't field a representative junior varsity team.
And worse, perhaps, is the absence of any home field advantage.
George Wythe High has installed lights, but there are no permanent bleachers. The Bulldogs will open with nine straight road trips before closing at home Nov. 5 against Huguenot High.     
"I'm fighting every day to turn it around, and I'm optimistic," said Coach Foxx, who played in 19 NFL games with the Miami Dolphins and the Washington team in 1994 and 1995.
"When I was hired, the principal asked how long I'd need to get things going. I said three or four years," he recalled.
But the schedule keeps getting in the way.
Like all city schools, George Wythe High is contractually obligated to play the county schools. Wythe and Huguenot high schools play Old Dominion schedules, dating back to the 1980s.
Thomas Jefferson and John Marshall high schools play old Colonial District foes and Armstrong High is stuck with the old Capital District.
In each case, the city schools are battling "out of their weight class."
"I don't say too much about the schedule," said Coach Foxx, "but I would like to play the other city schools."
Coach Foxx is hopeful he can do for the Bulldogs what his beloved high school coach, Jamie Accashian, did for him at Meadowbrook High.
"I'm going to give (Wythe players) all I've got," said Coach Foxx. "That means helping them get into college to be successful.
"I'm a Bulldog," he said.