New Wythe football coach brings NFL skills
Fred Jeter | 5/29/2015, 11:27 a.m. | Updated on 5/29/2015, 11:27 a.m.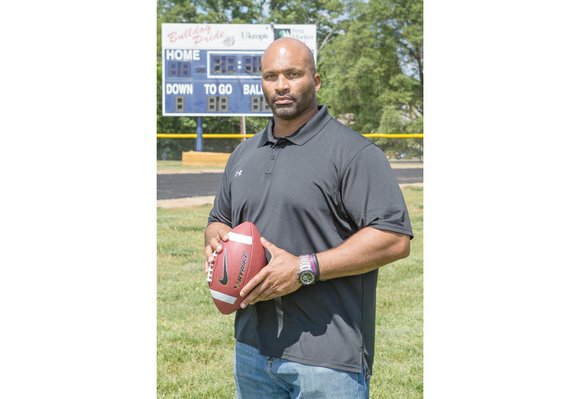 When heavy lifting is required, you call on a strong person.
George Wythe High School has high hopes it has found that individual in broad-shouldered Dion Foxx.
Foxx is the new football coach at the South Side school.
Coming to Wythe with NFL experience and plenty of muscle, Coach Foxx has been asked to turn around one of the state's struggling football programs.
Coach Foxx knows success won't come easy.
"I know it's going to take a lot of work, and I'd be lying to you if I said it would happen quickly," he said.
"My short-term goals are to have enough kids for a varsity and JV — to teach them to compete.
"I'm not saying we'll beat Bird," the Chesterfield County high school that is a three-time state champion, he said. "We just hope to close the gap, to line up and play, to compete. These 60- and 70-point losses are ridiculous."
Coach Foxx will try and succeed at Wythe where others with the best of intentions have come up short.
First some background on Coach Foxx:
Among Meadowbrook High School's greatest all-time athletes, Coach Foxx starred in football, basketball and track and field for the Monarchs in Chesterfield County. That earned him a full football ride to James Madison University, where he was an All-Colonial Athletic Association linebacker.
From Harrisonburg, he went to play with Miami and Washington in the NFL and with Birmingham in the XFL.
Since retiring from the gridiron, he has dabbled in body building, placing high nationally in various competitions and serving as a personal trainer.
On the football side, he has been an assistant coach at Huguenot High School, Henrico High School and, last year, an assistant at Wythe under Frank Coston.
Coach Coston did not return to the South Side school after a two-season, 1-19 mark.
It is apropos that Coach Foxx teaches mathematics at Wythe. That allows him to try and fix some ugly numbers he inherits as the Bulldogs' coach.
The past has been painful. Agonizing might be a more apt description.
The Bulldogs lost 67 games in a row until defeating Greensville, 22-6, on Oct. 15, 2011.
After that, the Bulldogs lost 26 straight games before defeating National Christian Academy of Maryland 18-6 on Sept. 21, 2014. That game also was unique in that it was one of the few on-campus games Wythe has played since opening in 1960.
In its nine losses last season, Wythe was outscored 531-32, including 82-0 by L.C. Bird High School and 75-0 by Manchester High School.
Wythe's lone reasonably close loss was 32-14 to South Side rival Huguenot High School.
Working against Wythe is a schedule from the Old Dominion District that pits the 3A Bulldogs against mostly 5A and 6A foes, schools with easily double the enrollment.
Huguenot High is the lone foe in the city of Richmond.
Coach Foxx can only do the best he can with what he has and hope for positive results, even if they're only in small gains.
For now, he's looking to upgrade the school's antiquated weight room and is recruiting new players from within the building — trying to sell teenagers on hopping aboard for what could be a rough ride for the team, at least at the start.
"Every day is a grind," said Coach Foxx. "But I don't have a problem with hard work. I've been working hard all my life."