Sweet victory! George Wythe scores first win since 2011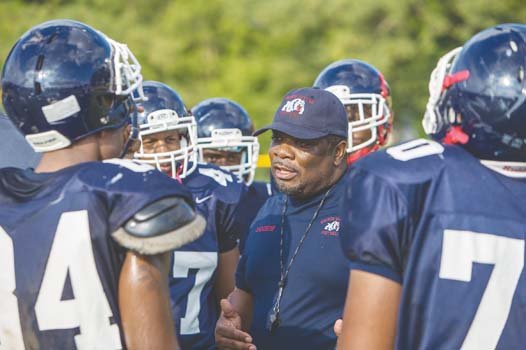 George Wythe High School snapped a 26-game football losing streak last Saturday with an 18-6 win over National Christian Academy, Md., at Armstrong High School.
It was the Bulldogs' first sip from the victory cup since defeating Greensville County, 22-6, in 2011.
"Like life, all you can do is make the best of the situation you're given and carry yourself the right way," said Wythe's second-year coach Frank Coston.
"Mental strength is developed from battling adversity."
Few understand adversity like the Bulldogs. The week before their long-overdue victory, Wythe was destroyed, 82-0, at L.C. Bird.
The bounce-back Bulldogs hope to extend their sweet victory Friday in a 7:30 p.m. kickoff against South Side Richmond rival Huguenot High School. The last time Wythe defeated Huguenot was in 1986.
The game will be played under the lights at Armstrong.
Neither Wythe (now 1-2) nor Huguenot (0-4) has a home field this autumn. In fact, Wythe has played only a handful of home games since the school opened in 1961.
Wythe has no on-campus lights for night games and no adequate seating.
Coston says his team has remained tight despite the steady drumbeat of disappointments.
"Team is like family," he said. "You stand together with your family, especially through the bad."
Wearing their red home jerseys in the game against National Christian Academy last week at Armstrong, the Bulldogs were led by tailback Nick Williams, who rushed for 90 yards, including a 35-yard touchdown.
Cain Ford led the defense with 10 tackles, including several behind the line of scrimmage.
Wythe's other TDs came on a 3-yard run by 111-pound Marvin Lester and a 22-yard pass from Eugene Williams to Baaree Stephens.
Huguenot has gone 1-9 in each of the past two seasons, with its lone victory over Wythe.
"Even though we're playing at Armstrong (in the East End), this is the biggest week of the year on our schedule," said Coston of the battle for South Side supremacy.
There have been few Bulldogs celebrations in the last decade. Before defeating Greensville in 2011, Wythe had lost 67 straight games.