George Wythe wins opener for first time in 13 years
Fred Jeter | 9/2/2016, 4:20 p.m.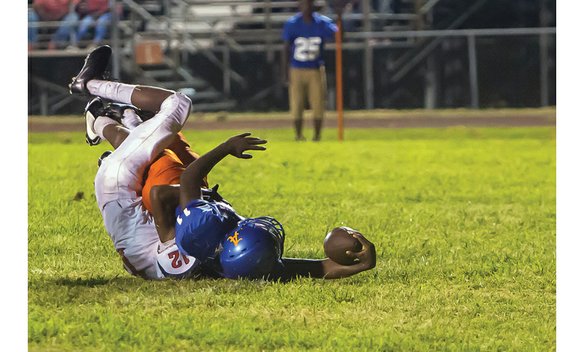 George Wythe High School found a quality quarterback and a long overdue victory all in the same week.
As a result, the Bulldogs are 1-0 for the first time since 2003.
"I saw some good things and some bad things. That's always how a coach looks at it," second-year head Coach Dion Foxx said after his 8-6 win last Friday at Armstrong High School.
"But I'm happy for the win. I'll take it. It's been a long time," he said.
The Bulldogs have known hard times.
From 2004 to 2015, the school on Richmond's South Side posted just three victories and 114 losses. The wins were over Armstrong High School in 2006, Greensville High School in Emporia in 2011 and National Christian Academy of Maryland in 2014.
The Bulldogs were 0-10 last season under Coach Foxx, a former NFL linebacker with the Miami Dolphins and the Washington professional team.
Perhaps Wythe's luck is on the upswing. During practices leading up to the opener against Armstrong High, Coach Foxx was forced to make a quarterback change.
"The kid we were playing there just didn't work out," said Coach Foxx. "So we put Kevon (Edmonds) in there and he stepped up. He played a pretty good game."
Edmonds, a senior, had been playing wide receiver before the conversion. He had not taken any quarterback repetitions during the Bulldogs' scrimmages.
Against Armstrong High, Edmonds steadied the ship.
Operating an offense that suffered just one turnover, Edmonds passed for 106 yards, including a 25-yard touchdown spiral to Eugene Williams.
"Kevon is our man now," said Coach Foxx of the new quarterback.
Wythe's top ground gainer was Maurice Laster with 56 yards.
Wythe scored on a safety for a 2-0 lead.
Armstrong tallied a touchdown in the third period but failed on the 2-point attempt.
Coach Foxx attributed a "swarm of tacklers" for stopping the point.  
"We buckled down," Coach Foxx said of his defense.
The Bulldogs' defense made life difficult for the home team with numerous tackles in the Armstrong backfield.
"I was happy with our penetration," said Coach Foxx.
The victory avenged a season-opening 31-8 loss to Armstrong a year ago.      
Wythe vs. Armstrong is a Richmond version of family feud. Coach Foxx is the godson of Armstrong's second-year Coach McDaniel Anderson.
"I've known him all my life and love him to death," Coach Foxx said of Coach Anderson. "Now he's got one (victory from last year) and I've got one.
"I'm thankful for the opportunity to play him."
Wythe has the week off to gloat — a rare feeling for the Bulldogs.
"For some of these kids, it's the first time they've ever tasted victory," said Coach Foxx.
Wythe will return to the gridiron Friday, Sept. 9, at James River High School in Chesterfield County — a team that walloped the Bulldogs 69-0 a year ago.
"They (James River) can only put 11 on the field at the same time, just like us," said Coach Foxx. "We'll play hard."
Wythe's last winning season was in 2003, when the Bulldogs went 6-4 with a covey of college-bound athletes including Tyree Evans, Jesse Pellot-Rosa, Jerome Choice and Thomas Green.