'Tiny Tornado' whips up win for John Marshall High School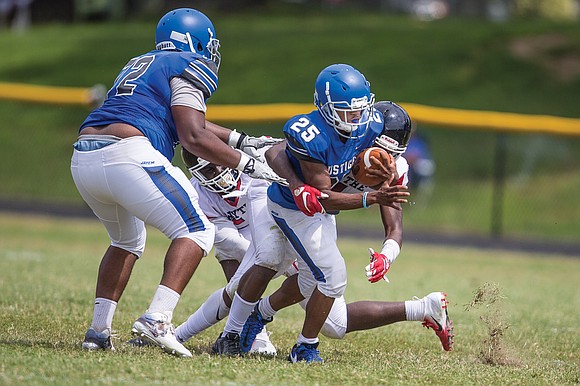 Never judge a book by its cover.
Kevon Dark may not look like a traditional football standout, but he sure plays like one.
Dark is John Marshall High's "Tiny Tornado" at 5-foot-2½ and a slight 140 pounds.
The senior tailback kicked up a cloud of dust in the Justices 48-26 opening victory last Saturday over host George Wythe High School.
What Dark lacks in size, he compensates for in speed, elusiveness and surprising toughness. He doesn't back down.
Richmond high school football slate
Thursday, Aug. 30
John Marshall High School plays Petersburg High School at home, 4 p.m.
Friday, Aug. 31
Thomas Jefferson High School at Armstrong High School, 7 p.m.
Huguenot High School
at Jamestown High School
in Williamsburg, 7 p.m.
Friday, Sept. 7
John Marshall at Armstrong,
4 p.m.
George Wythe High School
at Petersburg, 7 p.m.
Greensville County High School at Thomas Jefferson, 4 p.m.
Huguenot at James River High School, 7 p.m.
In a game brimming with big gainers, Dark made perhaps the most memorable — a thrilling, 65-yard touchdown sprint during the game's first quarter that left defenders with nothing but fistfuls of air and an empty feeling inside.
Once Dark broke free and hit full throttle, there was no catching the "Tiny Tornado."
Dark also had a 40-yard scamper and finished with 130 yards overland. 
"Kevon really deserved this game," said John Marshall Coach Phillip Sims. "He has been one of the hardest working kids in our program. He is always looking to improve."
Coach Sims admits, however, he didn't see this coming.
"He has had his ups and downs in our scrimmages and, truthfully, starting today I didn't know who our primary ball carrier would be. After that long run, I thought to myself, 'Where has this been?' "
The name Dark rings bells among Richmond's older sports fans. Kevon's athletic great uncles are Jesse, Frank and Ray Dark who all played professionally in different sports.
Jesse, aka "Bodine," Dark was a basketball sensation at Maggie L. Walker High School and Virginia Commonwealth University. He went on to play for the NBA's New York Knicks.
Frank Dark starred in football at John Marshall High and Virginia Union University. He went on to play for the NFL's Baltimore Colts.
Maggie L. Walker alumnus Ray Dark played several seasons of professional baseball in the Pittsburgh Pirates chain.
Kevon Dark wasn't on the fast track for success at John Marshall.
"I was kind of chubby and played on the line in JVs," he said. "I didn't become a running back until last year. Today, I was just focused. I proved something to myself."
Dark shared top offensive billing in last Saturday's game with junior quarterback Aarick Thomas, aka "Rico," and a slew of gifted receivers and muscular linemen.
"In this offense, our quarterback is asked to make a lot of decisions, both pre- and post-snap," Coach Sims said. "Rico made many smart decisions today."
Thomas passed for 220 yards, with two touchdowns to Mikel Merrite and one each to Shoye Sampson and Oliver Basnight. 
Coach Sims, a former quarterback at the University of Alabama, the University of Virginia and Winston-Salem State University, labels his offense a "hybrid."
"It's a little bit of everything — no one thing," Coach Sims said.
One thing is clear: Whatever you call it, it worked against George Wythe, thanks in part to the "Tiny Tornado" stirring up a storm of excitement.