Bigger Huguenot moves to new sports conference
Fred Jeter | 6/27/2015, 12:40 a.m.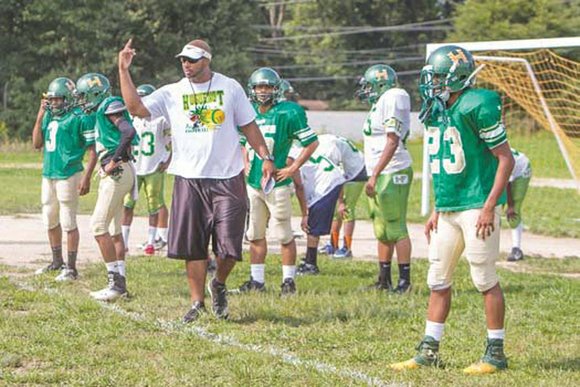 Starting with the 2015-16 school year, Richmond's five comprehensive high schools no longer will compete in the same athletic conference.
Because of its larger enrollment, Huguenot High School has been moved from Conference 26 of Division 3-A East to Conference 20 of Division 4-A East.
Replacing Huguenot High in Conference 26 is Spotsylvania High School, enrollment 1,131, from the Fredericksburg area.
Other Conference 26 schools are George Wythe, Thomas Jefferson, Armstrong and John Marshall high schools of Richmond, plus Petersburg High School (enrollment 822) and Hopewell High School (enrollment 1,127). 
Huguenot High, with 1,264 students, will be in Conference 20 with Dinwiddie (enrollment 1,357), Hanover (enrollment 1,229), Midlothian (enrollment 1,491), Monacan (enrollment 1,381) and Powhatan (enrollment 1,399) high schools.
Classification status is based on enrollment and determined by the Charlottesville-based Virginia High School League.
The five Richmond schools have been part of Conference 26 since VHSL's major shake-up in 2013, when enrollment, instead of geography, became the biggest factor in conference alignment.
Divisions are numbered 1 through 6, corresponding to the smallest to the largest.
At one juncture, it appeared John Marshall High, the city's smallest school in terms of enrollment, would be dropped to Division 2 for the upcoming school year. However, John Marshall officials appealed the preliminary ruling and remains in Division 3 for now.
Huguenot Activities Director Shea Collins says the conference re-alignment won't have much impact on the Falcons' regular season sports schedules for the upcoming season, but will become a larger challenge down the road when new schedules are determined.
For the 2015-16 school year, the Falcons' new division/conference home will be a factor only for region play and beyond in football, and in postseason conference play and beyond in all other sports.
The Falcons football team will continue playing its former Dominion District foes: Division 6 Manchester, James River and Cosby high schools; Division 5 schools L.C. Bird and Clover Hill high schools; and Division 3 George Wythe High, along with Division 4 Midlothian and Monacan high schools.
"It's a tough schedule, but it should help us in the long run, if we make it to regions," said Collins.
Other games will be at home against Division 4 Lafayette High School (enrollment 1,158) of Williamsburg and Thomas Jefferson High.
Under second-year coach Bryan Jennings, Huguenot High football will open the 2015 gridiron slate with a doubleheader on Aug. 29 at its new artificial turf field on Forest Hill Avenue.
Armstrong and Wythe high schools, both with new coaches, will play at noon, followed by Huguenot versus Thomas Jefferson High.
Armstrong's first-year coach is McDaniel Anderson, while Dion Foxx is in his first season at Wythe.