Clouds lifting for Huguenot Falcons varsity team
Fred Jeter | 8/26/2016, 9:41 a.m.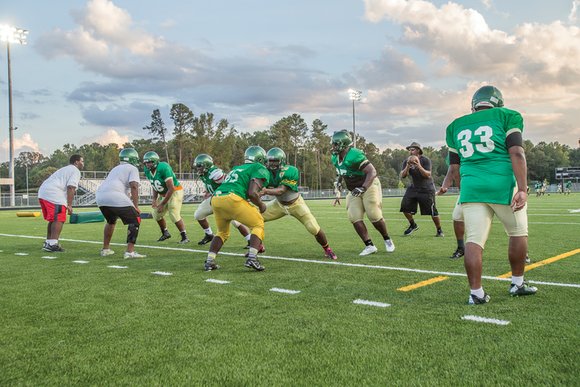 Huguenot High School's 2015 football Falcons were either 2-8 or 8-2, depending on whether you attended games on Friday or Thursday nights.
Coach Bryan Jennings' Friday night varsity team was 2-8, but much welcomed help has arrived this season from a promising 8-2 junior varsity squad that played on Thursdays.
"A lot of the JVs were sophomores who are now on the varsity," said Coach Jennings. "I decided not to bring them up a year ago. I wanted them to grow, to learn and get a taste of winning, to get excited. Got to start somewhere."
Varsity newcomers this fall include junior quarterback Merlys Manuel, described by Coach Jennings as "mobile, smart, good arm, the real deal."
There are at least 20 other mostly juniors from that JV team hoping to crank up their games to what Coach Jennings calls "varsity speed."
It has been rough on Forest Hill Avenue in recent seasons.  
A year ago, the varsity team won its opener against Thomas Jefferson High School and finale against George Wythe High School. Sandwiched in between were eight losses.
During the last six seasons, Huguenot High is 7-54 — under three different coaches — with six wins over its South Side neighbor, George Wythe High School.
Now in his third season at Huguenot High and his second at the new building, Coach Jennings sees the clouds parting.
"Our numbers are good — 60 to 70 kids the first day of practice," said Coach Jennings. "They've worked their butts off since last January in the weight room and conditioning. Everyone is determined, eager and ready to turn it around."
The Falcons aren't likely to get pushed around in the trenches.
Veteran linemen include Blair Page (6-foot-2, 275 pounds), Malik Jackson (6-foot-4, 325 pounds) and Brennan Thomas (6-foot-6, 340 pounds).
"I call them our 'Three Pillars,' " said Coach Jennings.
Page's brother, Blake Page, is an all-round athlete Coach Jennings figures to insert into several positions, including quarterback if necessary.
Huguenot also packs a punch at linebacker with Elijah Johnson, Noah Cabbins and De'Andre Mulligan. 
The Falcons have many positives, but one unavoidable negative — the schedule.
Division 4 Huguenot High will play four Division 6 schools — Manchester, Cosby, James River and Clover Hill high schools — plus three-time Division 5 State champ L.C. Bird High School.
Coach Jennings, whose brother Rashad is the running back for the NFL's New York Giants, was a big-time winner as a player. In both 1992 and 1993, Coach Jennings helped Jefferson Forest High School near Lynchburg to State Group AA championships.
Moving to Virginia Tech, he was an ace tight end on two Big East Conference championship teams and played in four bowl games.
He's hopeful now that his personal success translates to Falcons victories — Friday night victories, that is.