Grambling wins Celebration Bowl
Fred Jeter | 12/23/2016, 6:06 p.m.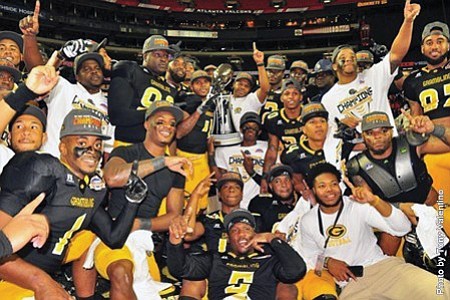 This has the makings of a bounce-back basketball season at Huguenot High School.
After three straight lackluster campaigns in which the Falcons were a combined 17-42, the dark clouds are parting.
"This is definitely the most talented team we've had in  a while," said veteran Coach Bo Jones Sr. "We just need to work hard, keep practicing hard."
The Falcons enter winter break with a ho-hum 3-3 record that could just as easily be 6-0, especially if you factor in the injury to do-it-all guard Jeshon Jones.
Jones, who arrived at Huguenot via Clover Hill High School in Chesterfield County, is one of two difference-making transfer students on the team. He joins 6-foot-6 Kabir Shabazz, who moved from George Wythe High School.
Huguenot's three losses — 57-51 to Armstrong High School, 64-63 to Manchester High School and 57-55 to George Wythe High — were decided in the final seconds, with Jones sidelined with a foot ailment.
"Jeshon is a complete player," said Coach Jones, who is no relation to the student-athlete. "We're hoping to have him back in January."
Jones was a second-team, All-Conference pick last year at Clover Hill High.
Huguenot boasts a rich hoops history since becoming a Richmond city school in 1970. Some of the area's all-time elite players, such as Realious Trent, Gerald Henderson, Ricky Stokes, Fatz Berry, Isaiah Morris and Bo Jones Jr., have worn the Huguenot green and gold.
Now with 6-foot-3 Jones, who was a member of Huguenot's junior varsity team two years ago, Shabazz and some gifted underclassmen, the Falcons' current roster offers hope of restoring past heroics.
Joining Shabazz on an imposing front line are 6-foot-11 junior Eric Rustin — likely the tallest Falcon ever — and 6-foot-4 junior DeShawn Ridley.
The backcourt features seniors Keon Lewis and Eyahlarmar Davis, along with sophomore up-and-comer Lance Montiero.
Shabazz arrived at Huguenot with Falcon bloodlines. His father, football defensive end Trevonne Eggleston, was Central Region defensive player of the year for the Falcons in 1992.
"KB (the nickname for Shabazz) is very coachable and physical and knows the game," said Coach Jones. "I know it seems strange transferring from Wythe to Huguenot, but we've had some transfer from Huguenot to Wythe, too — and they've done very well there."
Rustin practiced but didn't play last season.
"This is really 'E's' first year of organized ball," said Coach Jones. "His biggest asset now is blocking shots."
The tallest players in Huguenot history were Junius Lewis, who later played at West Virginia University from 1975 through 1979, and Isaiah Morris, who played at the University of Arkansas in the early 1990s. Both were in the 6-foot-10 range.
Ridley is closer than Restin to being a varsity headliner.
"DeShawn is ultimately a superstar," said Coach Jones. "If you want him to shoot it from the wing, he can. If you need him to post up, he can."
Lewis, in his fourth year on the Falcons' varsity squad, orchestrates the offense with quickness and savvy.
"Keon's speed is tremendous and he knows the game," said Coach Jones.       
Huguenot, the largest of the city schools, is Division 4A, while other Richmond high schools are 3A. The Falcons' conference opponents include defending State 4A champ Monacan High School in Chesterfield County.
Coach Jones feels his program is getting its legs back after struggling with years of construction headaches. The South Side school was in a state of flux the better part of four years while the former Huguenot building was being leveled and replaced by the current facility.
This is the second full year in the new gym.
"Not to make excuses, but yes, that (construction) had a lot to do with it," said Coach Jones of the hard times. "Often our practice time was cut, and we played a lot of away games."
The Falcons have by far the city's shiniest, most spacious gym, and now it seems they have a team to match their swanky digs.