Huguenot High's tall, secret weapon: Eric Rustin
Fred Jeter | 1/5/2018, 4:14 p.m.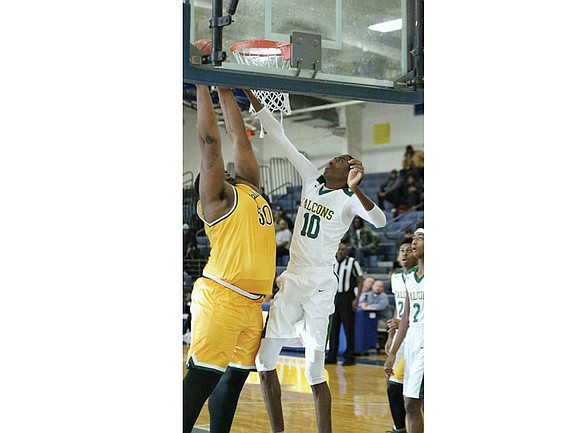 Most people need a step stool or possibly a ladder to do things Huguenot High School senior Eric Rustin does with both feet flat on the floor.
He's the teenager for the job if you need a ceiling light replaced, a ripe apple plucked from a high branch or, better yet, someone to assist in winning a basketball game. It sure helps when you stand 7 feet tall, can grip a basketball like it's a softball and can nearly reach the rim of the basket on your tippy toes.
"I keep telling Eric he can do things no one else can do," said Huguenot Coach Ksaan Brown.  
The friendly but bashful Rustin who wears glasses off the court is among the tallest players in Richmond Public Schools history. But he's also slim at just 165 pounds.
He often plays with long pants and/or sleeves and wears a guard's number—No. 10 — instead of a more traditional number in the 50s for a center.
A clear lack of weight and strength, along with normal growing pains, has delayed his hoops' advancement.
It wasn't until the Falcons' Dec. 27 matchup against Prince George High School in the Tri-City Holiday Classic that Rustin blew out the candles on his varsity coming out party in his size 17 Adidas sneaks.
In a contest billed as the "Battle of the Bigs," Rustin was matched on the low post with the Royals' 6-foot-10, 370-pound Christian Chappell.
Rustin had 14 points, 10 rebounds and blocked five shots, including one on Chappell in the game's final seconds to secure Huguenot's 67-62 victory.
The right-hander also calmly swished four free throws down the stretch, keeping the Royals at bay.
"Eric had a great game," Coach Brown said. "He began playing with a lot of confidence. He hadn't been starting for us. But he has earned that right now."
Chappell, an All-Conference 20 pick last year with a bruising inside style and soft touch, settled for 15 points, 10 of which came prior to the game's intermission.
"I just kept my hands up," Rustin said of his determined effort.
Huguenot has a variety of scoring options, such as seniors DeShawn Ridley and Rayvon McKoy, junior Lance Monteiro and sophomore Jordan Parham.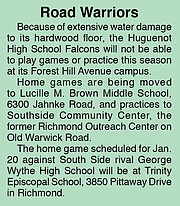 Rustin views himself as mostly a rebounder and defensive intimidator with his pterodactyl like 7-foot-6 wingspan.
"My role is defense, blocking shots and rebounding," said Rustin, who improved during off-season travel ball with Team Richmond/Garner Road under Del Harris.
Offensively, Rustin has surprising stamina and quickness and a nifty turn-around jumper from inside 10 feet.
"And don't forget the hook," Coach Brown told Rustin with a smile. "We like the hook because that eliminates problems with the footwork."
Despite his extreme height, Rustin is a relative newcomer to basketball. He was more into swimming before high school.
"I've always been the tallest person everywhere I've been," Rustin said. "I was at least 6 feet in sixth grade. I know it draws attention, but I'm used to it."
Rustin has drawn NCAA Division I recruiting interest from the likes of Norfolk State, Hampton, High Point and Mount St. Mary's universities. However, Coach Brown suggests his slender center may be better suited for a year at a prep school where he could add size and savvy.
Make no mistake; no one is saying Rustin is the next Ralph Sampson or Shaquille O'Neal. He's a work in progress, with progress the key word in that phrase. 
Tall tales: The tallest player in area history may have been 7-foot-3 Luke Minor, who played briefly at Mills Godwin High School in Henrico County in the 1990s before transferring to Blue Ridge School. Minor went on to play at Hagerstown Community College in Maryland, the University of Southern California and Virginia Tech.
Another giant in local lore was 7-foot Charlie Nicholas who played a few games at J.R. Tucker High School in Henrico County in the late 1960s and signed with the University of Baltimore in 1972. However, Nicholas never played college ball and became a popular vendor at the Richmond Coliseum.