Southside Ducks win 5th straight championship
Fred Jeter | 12/2/2016, 5:38 p.m.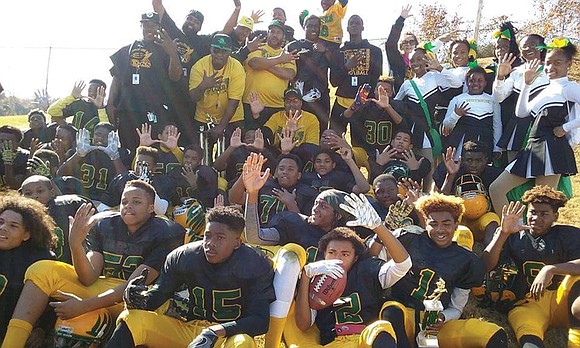 Football is alive and kicking — and quacking, too — at the Southside Community Center.
Headquartered on Warwick Road at the site of the former ROC church, the Southside Ducks are piling up touchdowns and winning trophies.
"We're trying to put city football back on the map," said Juniors Coach Antonio Ross.
So named for its uniforms patterned after the University of Oregon Ducks, Southside has won back-to-back titles in the oldest division (Junior Division, ages 13-15) of the Richmond Department of Parks, Recreation and Community Facilities' youth football program.
These Ducks — now sporting five straight championships in a "high five" run — are hard to beat in foul weather and brilliant sunshine alike.
Under blue skies at City Stadium on Nov. 19, the Ducks defeated Creighton-Whitcomb 19-6 in the Junior Division of the Youth Football Championships, polishing off a spotless season.
There's help on the way, too.
The Southside Ducks tacked on a second title in the JV Peewee Division, ages 7-8, nipping Reid 20-18. And Southside's Peewees, ages 9-10, advanced to the semifinals.
In going 10-0, Coach Antonio Ross' Juniors averaged about 25 points while allowing only three touchdowns all season. 
"We have a legacy of winning," said Coach Ross, who traces his football coaching in the city to the 1990s.
"But it's more than just a sport. We're family oriented, with parents and siblings very much involved."
There is strength in numbers. Coach Ross' roster totaled a whopping 36 Juniors, the largest group in the city.
A nucleus of the same boys has won five straight titles, starting in 2012. That's counting city Midget (ages 11-12) crowns in 2013 (the as Bellemeade Rams) and 2014 (as the T.B. Smith Seahawks), plus the Regional AAU title in 2012 as Bellemeade.
"Different names but same program," said Coach Ross. "The kids follow where the coaches go."
This comes as uplifting news to Richmond high schools in general and Huguenot High School in particular.
Coach Ross indicated most of his players have been and will continue to enroll at Huguenot High under Coach Bryan Jennings.
"The Huguenot staff has reached out to us," said Coach Ross. "They've had assistant coaches at most of our practices and games."
Huguenot's assistant coach, Claude Hataway, is the father of one of this season's Southside Ducks, receiver Randy Hataway.
Another Huguenot aide is Arthur Lee Thompson, a former Falcons running back.
Richmond's high schools have struggled mightily in recent seasons. Often overmatched, the city's five high schools were a combined 9-42 this past season with many lopsided defeats.
Huguenot High was 3-7, but earned the distinction of unofficial "city champ" with wins over Thomas Jefferson High (34-9) and George Wythe High (38-14).
The Huguenot Falcons' JV team, featuring many Southside Ducks alumni, have gone 8-2 each of the past two seasons, an indication of a favorable feather forecast.
"Southside runs a classy program," said Coach Jennings. "When their kids get to us, they already have the fundamentals and discipline. Plus, the Ducks run a lot of the same formations we run."
Coach Jennings noted Huguenot also benefits from young athletes arriving from the Westover and Reid programs.
It is no secret many promising athletes who grow up in Richmond never suit up for the city schools. Too often, they move to the county or opt for private schools.
Coach Ross is hoping his Ducks' continued success will inspire youngsters to bond and remain in the city.