Huguenot Falcons fly high with win despite storm
9/7/2017, 11:22 p.m.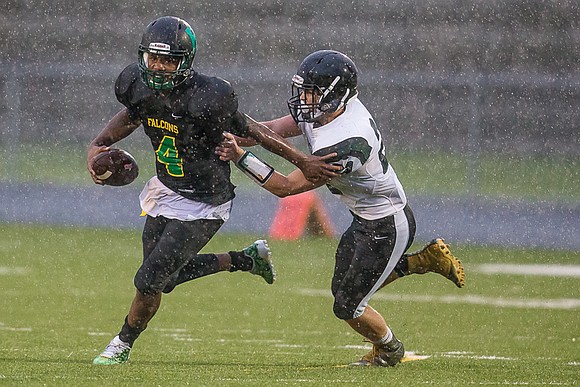 There are signs Huguenot High School football has weathered the storm, and not just because the team's latest victory was achieved in drenching conditions.
The Falcons are 2-0 for the first time since at least 2004 after drubbing visiting Jamestown High School of Williamsburg 34-24 last Friday.
The game was played as the final remnants of Hurricane Harvey swept through South Richmond.
After drying off, fourth-year Huguenot Coach Bryan Jennings suggested his program is taking "baby steps" after years of frustration.
"My first year, we won one game. My second year, two. My third year, three," Coach Jennings said. "Now, I'm not saying we'd be satisfied with four this year. The more important thing is that we're progressing."
The Falcons opened with a 35-6 rout of visiting Booker T. Washington High School of Norfolk on Aug. 25.
Elusive and strong-arm senior quarterback Merlys Manuel has been brilliant in both victories. The third-year starter had two touchdown passes against Booker T. Washington and added three more against Jamestown High.
Overall, Manuel was 12 for 18 for 227 yards hurling the wet ball against Jamestown High.
"Merlys represents how we've improved," Coach Jennings said. "He has learned a lot and is making better decisions each week."
Manuel's three touchdown aerials all went to fleet sophomore Kevin Gayles covering 25, 15 and 52 yards, respectively.
Huguenot has sent at least four receivers to the NFL — Corey Holliday, David Terrell, Bryan Still and Dedrick Epps. It is doubtful any had much better nights in green and gold than Gayles, who had seven receptions for 147 yards while gazing through raindrops.
Huguenot's ground attack figures to be led by ultraquick Rakei Pope, a senior transfer from state juggernaut L.C. Bird High School in Chesterfield County.
"Rakei was already living in the city," Coach Jennings said. "He joined us to be with his half-brother, Duron Ferguson," a defensive back for the Falcons.
Among those providing Manuel time to pass and Pope with running room is 6-foot-5, 330-pound offensive guard Brennan Thomas.
"He's a Division I prospect," said Coach Jennings, who ought to know. Coach Jennings starred as a tight end at Virginia Tech and played briefly in the NFL with the San Diego Chargers.
Defensively, converted basketball player Chavon Fields had 13 tackles and returned a fumble 30 yards for a touchdown.
Coach Jennings is perhaps more apt to boast about the quantity than quality of his roster.
"I'm most proud of our numbers," he said. "Our varsity is up to over 50. And we've got about 30 on JV and growing," he said.
It helps that Coach Jennings has developed a pipeline to the city's dominant youth program — the Southside Ducks.
"More and more Ducks are starting to show up in our lineup," said Coach Jennings.
This is no time to let off the gas.
The underdog portion of Huguenot's season begins Friday, Sept. 8, with a visit to Chesterfield County's James River High School.
Huguenot is Class 4, according to the latest Virginia High School League rating system, which is based on a school's enrollment.
James River is one of four Class 6 schools — the largest division — on Huguenot's slate this season. The others are Clover Hill, Manchester and Cosby High schools. Huguenot also takes on Class 5, three-time state champ L.C. Bird High School.
Still, all indications are pointing skyward for a Falcons' program that has known hard times.
Consider, in 2010, 2011, 2012 and 2013, Huguenot went 1-9 each season. During much of that time, the Falcons had nowhere to play home games or even practice on campus as the new school was being constructed on Forest Hill Avenue.
Now Huguenot is hopeful the pecking order will change.
"Our kids know who is who around the area," said Coach Jennings. "But the more we win, the more our confidence will grow."