Huguenot Falcons hope to boost wins under new coach Jared Taylor
5/11/2018, 9:35 p.m.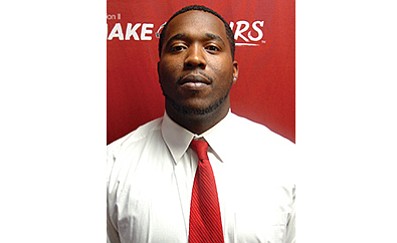 Huguenot High School has improved the number of victories its team has secured on the girdiron each of the past three seasons.
Coach Jared Taylor, who was named recently at the Falcons' football coach, plans to maintain that positive momentum started by his predecessor, former Coach Bryan Jennings.
"Coach Jennings left the program in good standing. He laid the foundation to build on," said Coach Taylor, 30, a native of Shreveport, La.
Coach Taylor was a volunteer coach last season at Virginia Union University after previous high school coaching stops in the Houston area. Coach Taylor is no relation to VUU Athletic Director Joe Taylor.
Huguenot High went four straight seasons — 2011 through 2014 — with just a single victory each year.
Under Coach Jennings, the Falcons improved to 2-8 in 2015, 3-7 in 2016 and 5-6 this past season, qualifying for the state Division 4 playoffs.
The Falcons posted victories last season over Booker T. Washington High School of Norfolk, Jamestown High in Williamsburg, Cosby and Clover Hill high schools of Chesterfield and Richmond's George Wythe High School. 
Three of the Falcons' defeats were to schools with higher classifications — Division 6 Manchester and James River high schools, and Division 5 L.C. Bird High School. 
Coach Jennings, a former Virginia Tech standout, resigned to become head coach at Clover Hill High.
Coach Taylor will teach physical education in addition to coaching at the Forest Hill Avenue school.
He's currently involved with the Falcons' offseason weight lifting and conditioning.
"Right now, we're just trying to get the kids to buy into a high-performance program," Coach Taylor said.
"We plan to achieve academically. And ultimately we hope to see Huguenot athletes win Division I scholarships, or really any scholarships."
Huguenot has the largest enrollment of Richmond's five comprehensive high schools and competes in Division 4. The other Richmond high schools compete in Division 3. Huguenot also benefits from the newest and most spacious facilities. Huguenot moved into its new building in January 2015.
The Falcons will kick off the 2018 football season at Jamestown High School and essentially will play the same schedule as this past season — a mix of Division 3, 4, 5 and 6 opponents.