Quarterback Aarek Thomas ready to take John Marshall to championships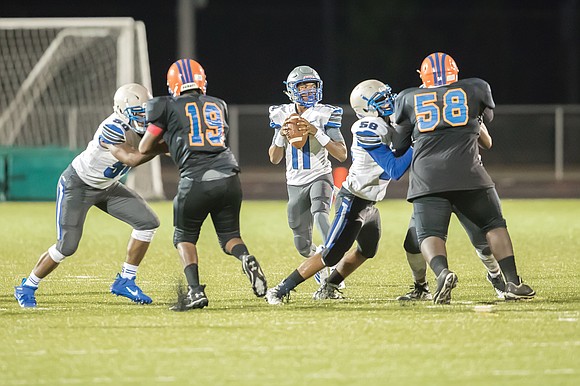 Phillip Sims left Oscar Smith High School in Chesapeake as the most prolific passer in state history.
Some of that aerial artistry seems to have rubbed off on his prized passing pupil at Richmond's John Marshall High School.
Coach Sims, who coaches the John Marshall Justices, sees some of himself in senior, third-year starter Aarek "Rico" Thomas.
"I think Aarek (pronounced "A-reek") has put himself on the map," Coach Sims said. "I'd rank him with the top five in the area."
A season ago, Thomas' lively right arm helped John Marshall reach the playoffs for the first time in 26 years. There are signs the best is yet to come.
Through three games this season — wins over Richmond's Armstrong High School and Bluestone High of Mecklenburg County and a loss to Heritage High School of Lynchburg — Thomas has passed for 741 yards and six touchdowns. The 6-foot, 170-pound Thomas had 150 aerial yards against Bluestone High in just one half. The game was suspended because of the weather at intermission. The quick, strong-armed quarterback passed for 361 yards in the loss to Heritage High, the defending State 3A champ.
Thus far, Thomas has been recruited by mostly NCAA Division II and III schools.
"He should get more and more looks as our seasons goes on," Coach Sims predicted.
Coach Sims refers to his offense as "quarterback friendly."
That's not surprising because Coach Sims threw for a state-record 10,725 yards and 119 touchdowns when he played for Oscar Smith High. He later played for the University of Alabama, the University of Virginia and Winston-Salem State University. That set the stage for NFL stops with the Arizona Cardinals and the Seattle Seahawks, along with the Saskatchewan Roughriders of the Canadian Football League. Along with numerous diagrammed formations and routes, Coach Sims' playbook includes something he refers to as the "scramble drill." "Aarek is very good at the scramble," Coach Sims said. "He escapes the pocket, evades pressure, extends the play and finds a receiver."
Coach Sims said his offen- sive scheme is a combination of ideas of all the coaches he has played for.
"We look a lot like what you see on TV on Saturdays — spread, RPO (run-pass option)," he said. "My goal is to prepare our athletes to play on the next level."
A primary target is Oliver Basnight, who accumulated 220 receiving yards and two touchdowns against Heritage High. Basnight, a transfer from Armstrong High School, is also a standout defensive back with two early-season interceptions.
It's not all about the passing game at John Marshall, however. There also is a stable of running backs Coach Sims refers to as "The Four Horsemen."
That group consists of re- turning starter Damian Harris, plus Antione Carroll, Treymaun Greene and Tim Hicks.
John Marshall, a member of Division 2, will not play any on-campus games this season because an all-weather track is being installed around the football field.All "home games" will be played at Huguenot High School's field. That in- cludes games Sept. 27 against Henrico County's J.R. Tucker High School of Division 4, and Oct. 12 against Richmond's Thomas Jefferson High School of Division 2.
This Friday, Sept. 20, the Justices travel to Portsmouth to face I.C. Norcom High School. It will be a Tidewater homecoming of sorts for Coach Sims, who filled the sky with passes not so long ago at Oscar Smith High.
His game plan as coach is much the same. He has booked a flight to the Division 2 playoffs, with Aarek Thomas as his pilot.