Highland Springs junior vaulting toward championship
6/10/2016, 6:48 a.m.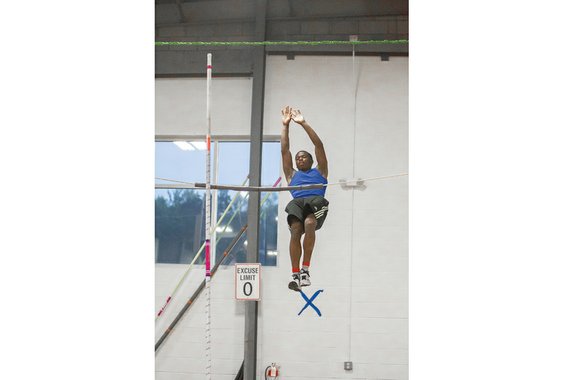 As a younger athlete, Chris St. Helen tried his luck at basketball, football and long-distance running, and he was average.
Then he discovered the pole vault and he was average no more.
From then on, it has been up, up and away.
The Highland Springs High School junior with Caribbean-born parents has taken off, literally, into the wild blue yonder as the springiest Springer of all time.
"There's a spark about the kid," says Highland Springs High vault Coach Kyle Bishop. "He's a ball of fire."
The 5-foot-8, 140-pound St. Helen, who turns 17 in August, cleared a personal best 15-4 in winning the Division 5, South Region title last month.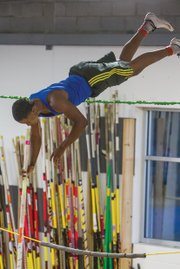 Competing in wet, windy conditions last Saturday at the State 6A Track and Field Championships in Newport News, St. Helen cleared 14 to finish second to Mark Miller of Hickory High School in Chesapeake. Miller's winning height was 14-6.
St. Helen won both the indoor and outdoor 6A State titles as a sophomore.
Steadily, he has pushed the crossbar bar higher and higher — from a best of 12-6 as a freshman, to 14-6 last year, obliterating the school record. He's now at 15-plus.
His goal?
"I want to clear 17 feet before I'm finished" high school, he said confidently.
And after high school?
"I want to continue vaulting at one of the service academies — either Navy or the Air Force," he said.
St. Helen flies high in the classroom, too, with a 3.85 overall GPA in all college-bound courses.
His background can be read with a calypso beat.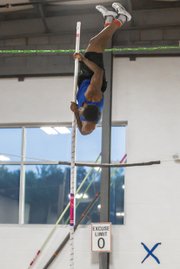 He is son of Neil and Tricia St. Helen, who both came to Richmond with their families from the Caribbean. His father, a truck driver and mechanic, hails from the Virgin Islands.
Chris has inherited his dad's mechanical aptitude.
"I love working on cars — and driving them," he said, referring to his smooth ride, a glistening 1997 Pontiac Grand Prix GT with "Got PV?" bumper sticker.
His mother, who works at UPS, hails from Trinidad & Tobago.
Growing up in Eastern Henrico County, Chris signed up for basketball and football.
"I was just average," he recalled.
He began running long distances in eighth grade on Fairfield Middle School's track team, but found the activity more perspiring than inspiring.
"It didn't look like I would go far and, worse, it wasn't any fun," he said. "I began watching the vaulters. It was eye catching."
That's when Coach Bishop, who is one of the state's vaulting gurus, came into sharp focus.
With great success, Coach Bishop has coached a large chuck of the area's elite vaulters for some 30 years. The mentoring began in Coach Bishop's backyard in Mechanicsville. Now his Aim High Vault Club has a home with a roof at Aerial East Gymnastics off Pole Green Road in Hanover County.
St. Helen trains alongside some of Virginia's top vaulters, including Griffin Kowalt from New Kent, who has sailed 15-7 in Division 3A.
St. Helen's Highland Springs High and Aim High teammates include Springer Patrick Booker, who cleared 13 feet at the South Region meet.