Springers bring home the crown
Fred Jeter | 12/18/2015, 6:19 a.m.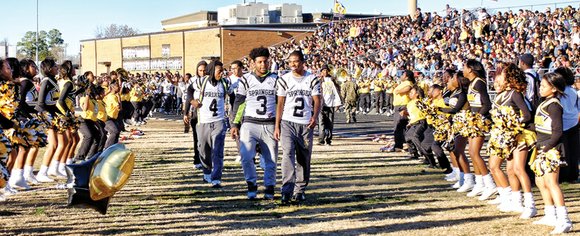 Instead of Highland Springs High School, perhaps it should be Highlight Springs.
Forget the slow but sure approach.
Coach Loren Johnson's Springers were fast and sure in sprinting to the State Division 5 football title last Saturday at the University of Virginia's Scott Stadium in Charlottesville.
In a dominating 27-7 triumph, Highland Springs High made Stone Bridge High School of Loudoun County look like it was lugging shells on its back.
The win energized the entire school, which held a victory celebration for the state champions Tuesday on the Springers' football field.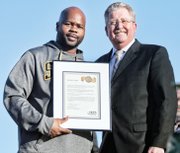 Embraced by sunny skies and springlike temperatures, team members paraded two blocks from the Oak Avenue school grounds to Beale Street, accompanied by a jubilant and jamming Highland Springs Marching Battalion and cheerleaders waving pompoms. As the gridiron heroes entered Kreiter Stadium, students, parents, community members and others cheered the team, which is now No. 1 in the state.
Several county officials, including Henrico Schools Superintendent Patrick C. Kinlaw and Varina District Supervisor Tyrone E. Nelson, joined the festivities in congratulating the team.
Team members received yellow gift bags and Coach Johnson received a framed congratulatory resolution from Dr. Kinlaw.
Here are the game highlights:
D.J. Anderson triggered the action, racing for a 61-yard first period touchdown. Anderson finished with 105 yards on 13 carries.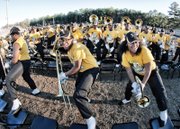 K'Von Wallace dialed long distance twice on 55-yard and 22-yard touchdown receptions from Juwan "Pootie" Carter. Wallace turned four grabs into 94 yards.
And don't forget the quickest of the quick, Greg Dortch. The elusive, do-it-all back snagged an interception on defense and closed the scoring in high style, running for 66 yards for the final touchdown.
The Springers defense had an answer for everything Stone Bridge High tried in its rare single wing attack, with the shotgun center snap often going straight to a running back.
That same Bulldogs offense accounted for 54 points in their semifinal win over Tuscarora High School, and for 50 points in the Northern Region final over Massaponax High School of Spotsylvania.
Quarterback Joe Thompson, under relentless pressure, was 2-for-10 passing for 17 yards and two picks.
In the mismatch, the Springers amassed 366 yards offensively to Stone Bridge's 186.
It marked the 14th straight victory for the Springers after opening with a 22-21 loss to Hermitage High School in Henrico County.
Highland Springs High gained momentum as the season wore on.
Avenging the August setback, the Springers beat Hermitage High 42-35 for the Southern Region crown, and then trounced Chesapeake's Indian River High School 35-10 in the state semifinals with big play highlights galore.
This is Highland Springs' first state title since 1961, when Coach Al Rinaldi's Springers were voted No. 1 in Group AAA prior to the Virginia High School League playoff system.
The Springers reached the Group AAA finals in 1978 under Rinaldi, losing to Annandale High School. Rudy Ward was coach in 1989 when they fell in the AAA finals to West Potomac High School.
In last Saturday's victory, Highland Springs logged the first state title by any Henrico County school since adoption of playoffs in 1969. Varina High School lost in the 1998 and 1999 finals.
Serving as Highland Springs High's student activities director the past two school years has been Michael Bailey, former head football coach and athletic director at Virginia Union University.
It is the third straight year a Richmond area team has won the Division 5 football championship. Chesterfield's L.C. Bird High School prevailed in 2013 and 2014.
As for Highland Springs' seniors, Dortch has signed to play at Wake Forest University and Wallace at the University of Cincinnati.