Highland Springs hoping for state football crown Saturday
12/11/2015, 6:25 a.m.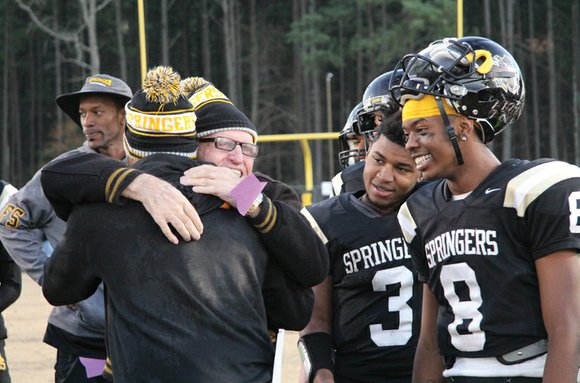 Oozing with momentum, Highland Springs High School has won 13 straight football games and needs just one more victory to claim its first state title since 1961.
The 13-1 Springers will face Stone Bridge High of Ashburn on Saturday in the Virginia 5A finals at the University of Virginia's Scott Stadium.
Kickoff in Charlottesville is set for 12:07 p.m.
Coach Loren Johnson's Conference 12 juggernaut in Eastern Henrico County opened the season Aug. 28 with a 22-21 loss to Hermitage High School. But since then, the black and gold has dominated.
Led by junior quarterback Juwan "Pootie" Carter and a bevy of speedy receivers and running backs, Highland Springs won its last nine regular season games. The team then roared into the playoffs, never easing up on the gas pedal.
Highland Springs defeated Meadowbrook, Lee-Davis and Hermitage high schools (avenging the season-opener loss) for the 5A South Region crown.
The Springers then trounced Indian River High School of Chesapeake 35-10 last Saturday at home at Kreiter Stadium in the state semifinals.
In ousting Indian River, Carter passed for 200 yards and three touchdowns, including scoring aerials of 40 yards and 34 yards to the elusive Greg Dortch.
A Wake Forest University signee, Dortch also reached the end zone on a 63-yard punt return.
Dortch and Carter are joined on the All-Conference 12 team by center Mike Greene, tailback D.J. Anderson and receiver K'Von Wallace.
Highland Springs lost in the State 5A finals to West Potomac High School in Northern Virginia in 1989 and fell to Annandale High School in the State Group AAA title game in 1978.
Prior to a playoff format, the Springers won the state mythical title on a vote of Associated Press writers in 1961 under Coach Al Rinaldi.
Stone Bridge opened its doors in 2000 in Loudoun County, and has made five trips to the state finals. The Bulldogs won the state championship in 2007 and lost in the finals in 2005, 2009, 2010 and 2012.
The Bulldogs are 10-4 this fall but have won six straight games, most recently a 54-41 drubbing of Tuscarora High School in Leesburg in the state semifinals.
Richmond area schools are on a roll.
Chesterfield County's L.C. Bird High School won the state 5A title in 2013 and 2014 and captured the Group AAA crown in 2012.
Dinwiddie High School took the 4A crown in 2013 and Thomas Dale High School in Chester was the 2009 state Group AAA champ.