Ali laid to rest in send-off 'fit for a king'
6/17/2016, 11:30 a.m.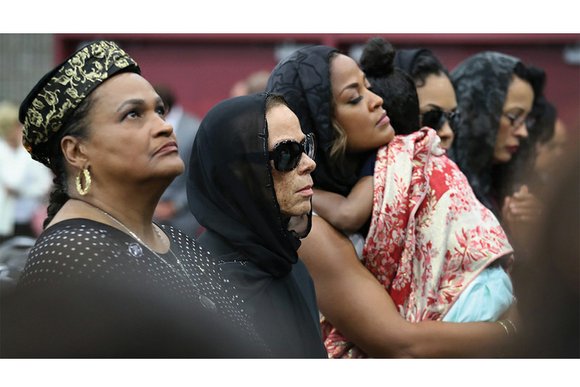 By Yvonne Coleman Bach
Louisville Defender Editor
By Yvonne Coleman Bach
Louisville Defender Editor
LOUISVILLE, Ky.
The world watched as the life of boxing champion Muhammad Ali was celebrated last week in his hometown of Louisville, Ky.

Services last Thursday and Friday, both filled to capacity, and a procession through the streets of Louisville highlighted the send-off fit for the king he was.
Mr. Ali, a world boxing legend who won the heavyweight title a record three times between 1964 and 1978, died Friday, June 3, 2016, at age 74.
More than 14,000 people attended a traditional Muslim service last Thursday at Freedom Hall, while an interfaith memorial service was held last Friday in Downtown Louisville.
Although Mr. Ali touched the lives of people throughout the world, the people of Louisville knew what others did not know. The procession route included a stretch of Broadway Street, where, in earlier days, Mr. Ali would drive his big recreational vehicle when he returned home to Louisville after winning his fights. Sometimes he would drive fast enough that the police would pull him over. But when they looked inside and saw it was The Champ, they would just smile and tell him to slow down.
Mr. Ali was loved by his hometown, and he always made it clear that he, too, loved Louisville.
Known for bragging, Mr. Ali was called the "Louisville Lip" by many. But he called himself "The Greatest." He often would say, "It's not bragging if you can back it up."
Louisville backed him up, showing the world that he was "The Greatest" when more 100,000 people lined the streets for 20 miles to say their final goodbyes. As the procession originating from A.D. Porter & Sons Funeral Home — Southeast passed, people chanted, "Ali, Ali." Some threw flowers on the hearse carrying their hometown hero. Children ran alongside the hearse, throwing jabs in the air. Others ran up and kissed the vehicle's roof.
As the procession traveled down Broadway, Hana Ali, the champ's daughter, tweeted, "We just left the funeral home and are in the car now following our beautiful father in route to his final resting place, as his reoccurring dream is realized. When he was younger, he said, 'I used to dream that I was running down Broadway in downtown Louisville, Kentucky, and all of the people were gathered in the street waving at me and clapping and cheering my name. I waved back, and then all of a sudden I just took off flying. I dreamed that dream all the time …' "
The procession made the final leg of the journey into Cave Hill Cemetery, a Victorian-era cemetery where Mr. Ali was taken to his final resting place. Thousands of rose petals were strewn at the entrance, which was lined with mourners.
About 15,000 people awaited the public interfaith memorial service at the KFC YUM! Center, where many celebrities came to say their final goodbyes, among them director Spike Lee, former NFL great Jim Brown, Arnold Schwarzenegger, Whoopi Goldberg, Kareem Abdul-Jabbar, boxing greats Mike Tyson and Lennox Lewis and soccer star David Beckham.