Dick Gregory to open Juneteenth celebration
6/17/2016, 4:54 p.m.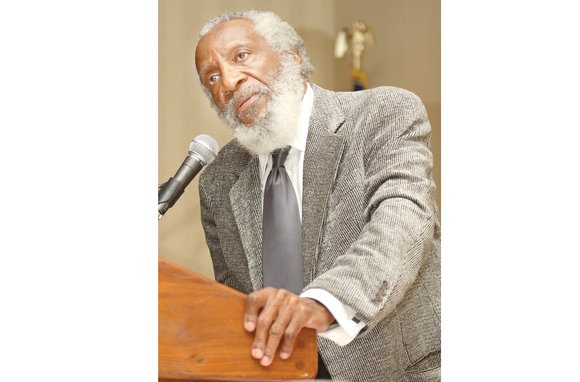 Dick Gregory will be in Richmond this week to help launch the annual two-day Juneteenth celebration to mark African-American liberation from slavery.
Now 83, the veteran civil rights activist, social critic, writer and comedian will headline the opening ticketed event 7:30 p.m. Friday, June 17, at the Dominion Arts Center's Rhythm Hall at 7th and Grace streets in Downtown, it has been announced.
Tickets are $15 for adults 19 and older, or $25 for two; $10 for students 12 to 18; and free for youths under 12.
The Juneteenth festivities will continue Saturday, June 18, with a free public celebration beginning around 5 p.m. The program will include a youth cultural summit, music and dance at the site of the Manchester Docks, where slave ships once loaded and unloaded human cargo at the east end of Maury Street, according to Janine Bell, executive director of the Elegba Folklore Society, which organizes the celebration.
The program will wrap up with a 2-mile, torch-lit walk along the Slave Trail between the docks and the site of Lumpkin's Jail, a once notorious slave jail and auction site, near Broad and 16th streets, Ms. Bell stated.
Juneteenth is based on the day in 1865 when slaves were finally freed in Texas, the last outpost of the Confederacy. The name is a contraction for June 19th, the actual date, which falls on Father's Day this year.
Union Gen. Gordon Granger proclaimed freedom when he arrived on that day at the port of Galveston, Texas, to accept the state's surrender and announce that President Lincoln's Emancipation Proclamation was in force — bringing freedom to the remaining 250,000 slaves in the Lone Star state.
Before Gen. Granger's arrival, word of the proclamation had not circulated in the state.
The celebration of slavery's end in Texas has become an annual event that has spread to Richmond and other cities across the nation.
Event details: www.efsinc.org or (804) 644-3900.