Top Tony Awards won by people of color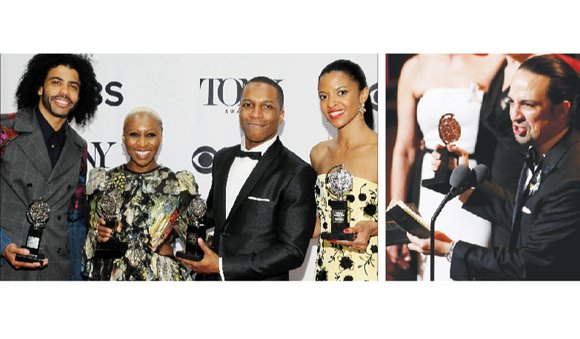 Free Press wire reports
NEW YORK
People of color snagged the top Tony Awards for performances on Broadway stages during the past year— a sharp contrast to Hollywood's all-white Academy Awards for movies.
The 70th annual Tony Awards on Sunday celebrated Lin-Manuel Miranda's smash success "Hamilton," which won 11 awards and saw best musical performance awards go to Leslie Odom Jr., Daveed Diggs and Renée Elise Goldsberry, stars of the musical about Alexander Hamilton, one of the nation's founding fathers.
Mr. Miranda, who plays Alexander Hamilton, is of Puerto Rican heritage, while Mr. Odom, Mr. Diggs and Ms. Goldsberry are African-American.
"The Color Purple" — a tale of struggle involving an abused African-American woman who rises above her circumstances— rounded out the major awards, with the show's star, Cynthia Erivo, winning the top prize for a lead actress in a musical.
Her victory moved to tears Oprah Winfrey, executive producer of the show based on author Alice Walker's novel.
This was the first time that all of the top awards for Broadway musicals went to non-white performers.
The award winners were joined by the long list of nominees and others who work on Broadway who also reflected diversity.
The audience was equally diverse, and that diversity received a humorous salute from emcee, James Corden, who quipped: "Think of tonight as the Oscars, but with diversity. It's so diverse, Donald Trump has threatened to build a wall around this theater."
Mr. Diggs, who won the coveted featured actor prize, said he was proud of the varied cultural and personal backgrounds of the people who were nominated for awards.
"There is so much diversity on Broadway right now," he said in a backstage interview. "It's nice to have it feeling a little more mainstream and a lot more inclusive."
In February, film industry luminaries such as Will and Jada Pinkett Smith and director Spike Lee boycotted the Oscars to protest the lack of diversity.
The Academy of Motion Pictures Arts and Sciences, which awards the Oscars and is led by an African-American woman, first defended its selections, but then issued a promise to make "substantive changes designed to make the Academy's membership, its governing bodies and its voting members significantly more diverse."
High-level victories for people of color on Broadway are expected to influence Hollywood. The massive success of the hugely diverse "Hamilton" could push casting directors to consider more diversity in key film roles.