Host Chris Rock rocks the Oscars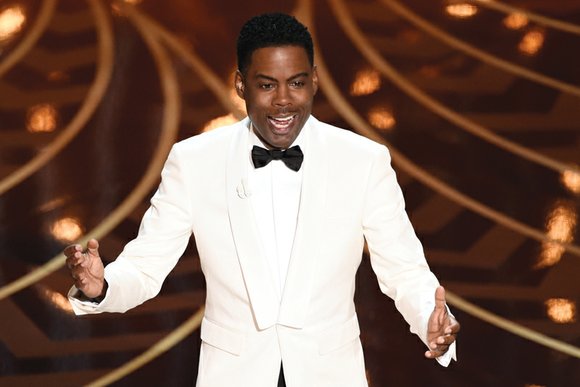 Free Press wire reports
LOS ANGELES
Comedian Chris Rock launched his return stint as Oscar host Sunday by immediately and unabashedly confronting the racially charged elephant in the room — the furor over the all-white field of performers nominated for Hollywood's highest honor.
In an opening monologue peppered with biting commentary about what he described as "sorority" discrimination pervading the film industry, Mr. Rock set the stage for a night of running gags that repeatedly returned to themes of racial politics.
In doing so, he transformed a glittering awards show long known for self-reverential pomp into a 3½-hour live ABC telecast punctuated by withering satire riffing on issues of inclusion and diversity raised by the hashtag #OscarsSoWhite social media campaign and the Black Lives Matter movement.
But the issue of race was just one element that made the 88th edition of the Academy Awards likely to go down as one of the most socially conscious shows in Oscar history. Messages ranged from Vice President Joe Biden's special appearance urging a stand against sexual violence on college campuses to best actor winner Leonardo DiCaprio's impassioned appeal to take care of the planet.
The difference in tone was evident from the start. Strolling on stage in a white dinner jacket and bow tie, Mr. Rock welcomed the audience to a show "otherwise known as the white People's Choice awards," adding, "You realize if they nominated hosts, I wouldn't even get this job."
From that moment on, it was clear Mr. Rock would be pulling no punches, and that his no-holds-barred message could help the film Academy come to grips with its diversity problem.
Wondering with mock bemusement why black people did not protest over a lack of Oscar diversity in the 1950s or 1960s like they did this year, he answered his own question, "Because we had real things to protest at the time. We were too busy being raped and lynched then to care about who won best cinematographer."
Mr. Rock did not confine his barbs to Hollywood alone. He drew one of his biggest laughs joking that the Oscars' annual "in memoriam" montage tribute to deceased film luminaries would instead be devoted to "black people who were shot by the cops on their way to the movies."
It was a motif that stretched beyond Mr. Rock's monologue into bits of comedy in between award presentations. In one instance, he ventured in a tuxedo to the predominantly black Los Angeles suburb of Compton to ask several African-American movie goers outside a cinema whether they had seen various films nominated this year for best picture. Only one had.
However, all said they had seen the critically acclaimed hip-hop drama "Straight Outta Compton," whose failure to earn a place in the best picture contest helped stoke the #OscarsSoWhite uproar.
One of Mr. Rock's most pointed comments on the subject was not a joke at all but a straightforward summation of the issue: "We want opportunity. We want the black actors to get the same opportunities as white actors. That's it."