Retired airman recounts saga to remove racist flag from Virginia Air National Guard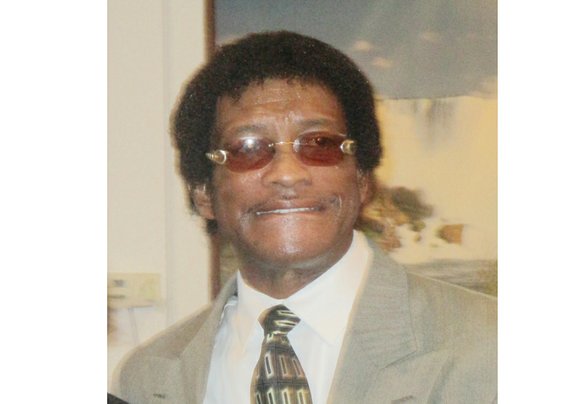 Leon Brooks, a retired sergeant with the Virginia Air National Guard, was honored Sunday "as a real living hero" in an emotional tribute at Greater Brook Road Baptist Church on South Side during the church's Heritage Celebration.
"I'm really honored," Mr. Brooks humbly told the small congregation at the church led by the Rev. Grace E. Tolliver. "This is the first time anyone has asked me to speak about this publicly."
He was referring to the major role that he, then-Gov. L. Douglas Wilder and the Richmond Free Press played in eliminating a racist Virginia Air National Guard policy and practice that allowed the Confederate flag to be used on its fighter jet and uniform emblems.
Mr. Brooks said the church asked him to speak after several members recently heard others talk about his trailblazing efforts that occurred more than 20 years ago.
In his informative 30-minute talk, Mr. Brooks recalled how he was fired without cause in 1992 from the Virginia Air National Guard's 192nd Fighter Squadron after he spoke openly against the Confederate flag being emblazoned on the squadron's planes based at Richmond International Airport and its uniforms.
The incident began when a black airman who wished to remain anonymous complained to the Free Press about the hate symbol on the emblem adopted by the state militia unit when it was formed in 1947.
After a Free Press article by Hazel Trice Edney was published in July 1992 with photos of the offensive flag emblem on the Air National Guard unit's planes and uniforms, Gov. Wilder issued an executive order requiring the flags to be removed and replaced with the United States flag.
Mr. Brooks, who was one of only six African-Americans among the squadron's 50 members, openly complained about the racist symbol's use by the squadron. He then was fired from his job as an aircraft mechanic with the unit.
At the time, Mr. Brooks told the Free Press the entire experience was "intimidating and humiliating."
Gov. Wilder later reinstated Mr. Brooks to his job.
Mr. Brooks told the congregation that shortly before he was fired, he had been removed from his mechanic duties and assigned to clean up the flight line. Throughout his tour of duty, he said, his commanding officers made it clear they did not want him serving with the mostly white unit.
Now 66, Mr. Brooks told the congregation he is undergoing treatment for post-traumatic stress syndrome through the Veterans Administration Medical Center in Richmond after serving two years in the Air Force, then 24 more with the Virginia Air National Guard.
He also sings with The Soul Seekers gospel group based at First Union Baptist Church in Hanover County.
After retiring, Mr. Brooks later became president of the King William County NAACP and served 10 years in that position.
Looking back on how the incident impacted his life, Mr. Brooks said, "It tore my family apart. We had to move three times because of financial stress. Each time we moved, we moved down to a smaller place. It was tumultuous.
"My mind went into survival mode for my family," he recalled. "It had a serious impact on my life, but the almighty God kept me under the umbrella of Jesus Christ. I don't know how I made it through without having hurt somebody or being hurt."
Mr. Brooks humbly downplayed his role in this pivotal time in history.
"If it had not been for the (writing) of Hazel Trice Edney, the professionalism of Mr. Raymond Boone Sr. (the late Free Press editor/publisher) and the presence of L. Douglas Wilder, that flag would have stayed right there," he said. "They deserve all the credit for the removal of the Confederate flag. And God used (me) for his glory," he said.
Mr. Brooks also shared his musical gifts at the service by playing the piano as the congregation sang "Lift Every Voice and Sing" and "We Shall Overcome."
Afterward, his brother, Avus Brooks, who attended the ceremony, said, "My brother is my hero. What he did was amazing."